HNOJ Synod Small Groups Starting This Fall – Sign Up Today!
If you ever start a sentence with, "The Church needs to…" then this is for you! The Archdiocesan Synod kicks into high gear this fall and your input is needed to help Archbishop Hebda chart the course for this local Church. Join a six-week small group to discuss and give feedback on priorities within each Synod focus area. Mark your calendar for Sept. 19 – Nov. 7.
Sign up now for a meeting time that works for you or to receive more information as more group meeting times become available. 
Much More Information Found on the Archdiocesan Website
If you have questions about the Synod and where we are in the process, you will find your answers on the Archdiocesan Synod webpage. Vidoes, interviews, Q&A, and much much more can be found by clicking here. 
Or keep reading for a couple tidbits of information about our first Archdiocesan Synod in over 80 years! 
What is an Archdiocesan Synod?
Quotes below are from Archbishop Hebda's June 6, 2019 column in The Catholic Spirit. Find the full column at archspm.org/synod.
"A Synod is a formal representative assembly designed to help a bishop in his shepherding of the local Church."
The purpose is "to discern and establish clear pastoral priorities in a way that will both promote greater unity and lead us to a more vigorous proclamation of Jesus' good news."
What is a Listening Church?
The pre-Synod process has been designed to engage in a "sincere and respectful 'mutual listening' in which everyone has something to learn."
"Moreover, it is not just listening to one another but to the Holy Spirit, the 'Spirit of Truth' (Jn 14:17), to know what the Spirit is 'saying to the Churches' (Rev. 2:7)."
What is the Synod process?
The pre-Synod process began fall 2019 engaging the People of God — laity, clergy, consecrated men and women, and bishops — all walking together at the personal, deanery, parish, and Archdiocesan levels.
The process culminates in the Archdiocesan Synod Assembly which will be held Pentecost weekend, June 3-5, 2022, followed by a Pastoral Letter, leading to a Pastoral Plan.
Synod Process Overview
We are currently in Year two of our Archdiocesan Synod and looking forward to beginning our third year in the Fall of 2021. Below you will find images that help to explain the Synod process. For a PDF click here.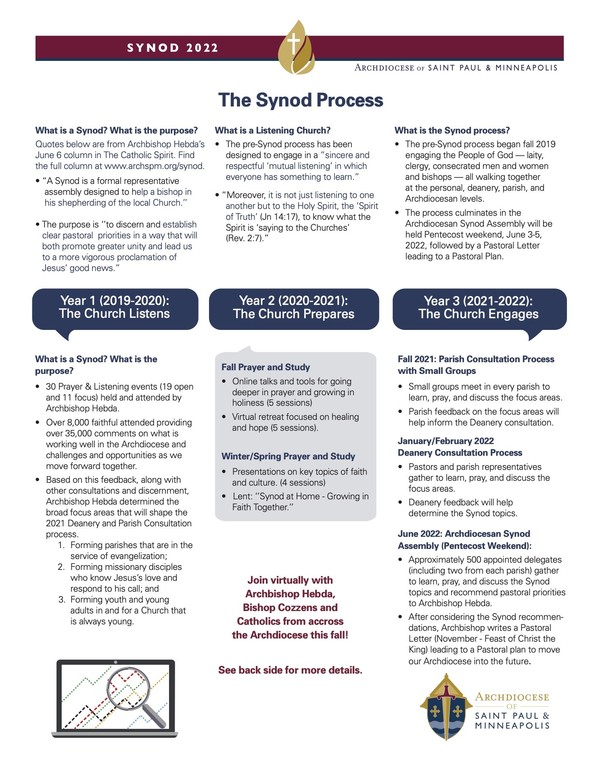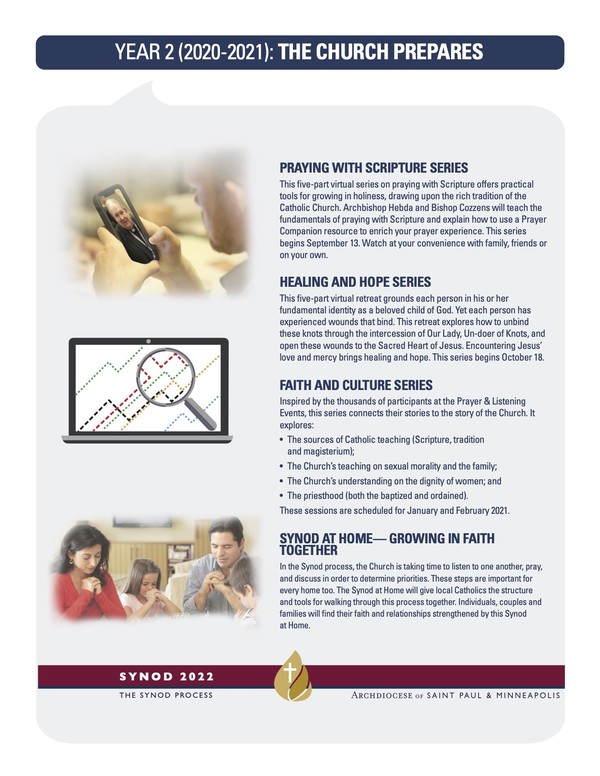 What are the Synod Focus Areas?
Below you will find images of thes Aug. 2020 special edition of the Catholic Spirit that outline the Focus Areas and give greater insight into the process of the synod moving forward. You can find a PDF of the same document here.