During this time, we distance ourselves physically from our fellow parishioners and the sacraments that we rely on, but the staff at Holy Name of Jesus continues to serve our Parish and to keep us spiritually connected, despite new challenges. During the coming weeks the Stewardship Commission will be providing a glimpse of what life has been like for our priests and parish staff who are continuing to serve our parish and keep our focus on Christ.
Your Brothers and Sisters in Christ
HNOJ Stewardship Commission
Dan Stephens - Chair
Publication date May 29, 2020
Matthew 28:19-20: Go, therefore, and make disciples of all nations, baptizing them in the name of the Father, and of the Son, and of the Holy Spirit, teaching them to observe all that I have commanded you.
While we are physically distant from our parish, the Faith Formation staff at Holy Name of Jesus continues to serve our parish by moving existing activities online, as well as creating new opportunities for learning. This week we highlight Chris Kostelc, director of faith formation, and Kelly Schumacher, faith formation administrative assistant, their experiences during this time of physical distancing, and ways in which they continue to teach our parish about Christ.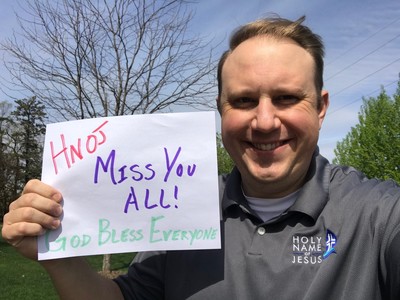 Chris Kostelc:
Chances are you've probably encountered Chris at Holy Name of Jesus. He's worked at the parish since 2002 in various faith formation roles, first as the high school youth minister and now as the Director of Faith Formation.
Chris is a social person and, like many of the other parish staff members, has missed his in-person interactions with parishioners. He especially misses Sundays, attending Mass with his family and then having the opportunity to connect with people from the parish afterward. Interactions with small groups, bible studies and other activities have continued and have been moved online, but it's more difficult to share in the 'Ah ha!' moments he normally sees as people learn and realize the truth of our Catholic faith.
At home, Chris has experienced new levels of connectedness with his family. He's been blessed by the love between them and how they've interacted as a family during this "strange time."
As we move forward together and return to our parish physically, Chris is excited and hopes people feel drawn back to the sacraments and the Church. He also has some new projects in mind for Adult Formation and is looking for help on several of them, so please reach out if you're looking for new ways to get involved at the parish.
In addition to his normal work, Chris has been spending time taking an in-depth look at the content on Formed.org. You can find his reviews, covering everything from study materials to family movies, sent through email and at www.hnoj.org/formed.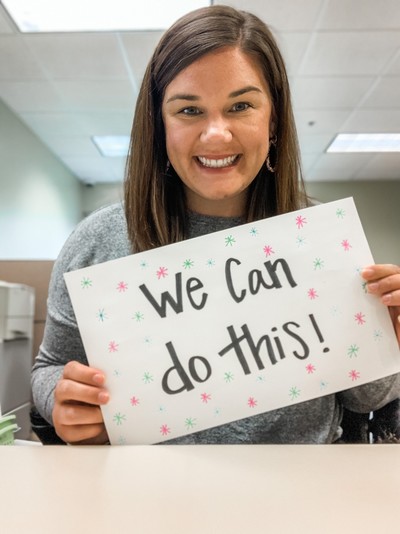 Kelly Schumacher:
At just under three years at Holy Name of Jesus, Kelly is one of the newer faces in the parish. In her role, she serves as the Administrative Assistant for Faith Formation, and also does a lot of other work behind the scenes such as coordinating funeral programs and luncheons.
Missing coworkers and parishioners due to Covid precautions has been a common theme with the Holy Name of Jesus staff, and Kelly is no exception. While she remains connected with family, friends and many parishioners via email, Zoom and other means, she commented that these interactions tend to be more scheduled and planned out, and misses the spontaneity of her normal in-person interactions.
Outside of work, Kelly has taken some of her free time to step back and reassess how she spends her time. A good lesson for all of us, she and her husband have made a conscious effort to discuss their priorities and decide which things they plan to keep in their lives after this time of distance is over, and things they won't.
Remaining connected with our community is important and while it will be possible to return to Masses soon, we may not see all of the same faces that we know and love. Holy Name of Jesus would love to hear from you about mercies and graces that you've received during this time. If you'd like to share, please visit and contribute your experiences at: https://www.hnoj.org/covid19reflections
Thank you Chris and Kelly, for continuing to provide us with ways to learn and grow in our faith!
Psalm 66: Cry out in joy to the Lord, all peoples on earth, sing to the praise of God's name!
The Liturgies celebrated at Holy Name of Jesus are the height of our community's praise of God. During this time of physical separation, our praise has been able to continue thanks to the online broadcasts of Holy Name's Sunday Masses. This week we highlight two people instrumental in directing our community's musical participation in these liturgies, Judy Hodgson and Nate Reinhardt.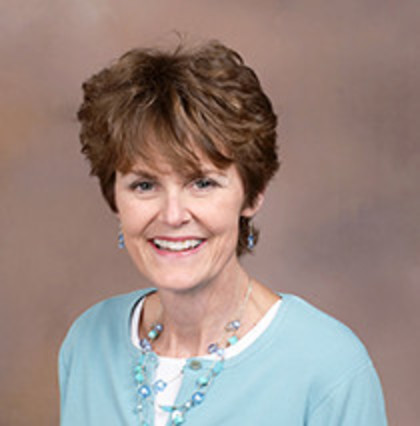 Judy Hodgson
Judy has served as the Director of Music at Holy Name of Jesus for six years, planning and coordinating the music, choirs and musicians for our Sunday Liturgies, as well as special services such as funerals and weddings.
Moving to only one Mass per week has been an adjustment. She misses the day to day interactions with her coworkers and all of the wonderful parishioners and musicians who contribute to Masses each weekend. She recently celebrated a birthday and was pleasantly surprised to hear from many choir members she has been missing.
During this time of physical distancing, she's had a reliance on her faith and found the power of prayer to be a great gift. "We will get through this", she stated, "because there is something greater. God will get us through, we don't know how, but prayer will help - for a vaccine, for healthcare workers and for our faith community." Along with prayer, Judy has been reading a lot. She is currently reading, The Time Is Now: A Call to Uncommon Courage by Sister Joan Chittister; which is a call to action to live out our faith, a very appropriate message for our current experience. She hopes people who have not been connected during this crisis will realize how faith and community help to get through this time of uncertainty.
When we have an opportunity for public Masses again, we will need to adjust in order to safely gather. Judy anticipates that the parish will have extra needs. She encourages parishioners to volunteer to help with the new liturgical opportunities that arise.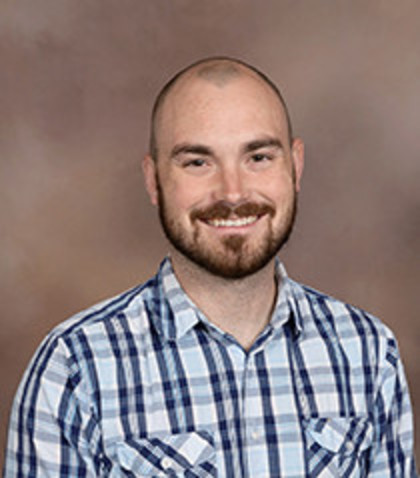 Nate Reinhardt
Nate is a familiar face at Holy Name of Jesus, having worked in the parish for the past 16 years. His work began as the Middle School Youth Minister and most recently Nate has been the Director of Liturgy and the Sunday evening Mass Music Director.
While public Masses are not being celebrated, Nate has been filming Holy Name of Jesus's Sunday liturgy for the online broadcasts provided to our community every Sunday morning. He commented that Masses, especially the Holy Week liturgies, have been surreal, but that he's thankful for the interactions he's still able to have with lectors, cantors and others while he's at the church.
Since mid-March, Nate's in-laws have been staying at his home, providing an opportunity for him to connect with them in ways that wouldn't have been otherwise possible. The time spent together with his family has been a blessing, as have the family Pickleball matches which have become a regular occurrence. 
As we move forward and society slowly opens back up, Nate expects to see a fervor within the Church. Christ created the Church as a physical body, not a virtual one, and he expects we will have a new hunger for the Sacraments, and renewed connections to our local parish and the Universal Church.
Thank you Judy and Nate, for the work you do in directing our participation in the Liturgy - currently virtually - but hopefully very soon together as one, physical body.
Information on Holy Name of Jesus online liturgies can be found at https://www.hnoj.org/mass-online.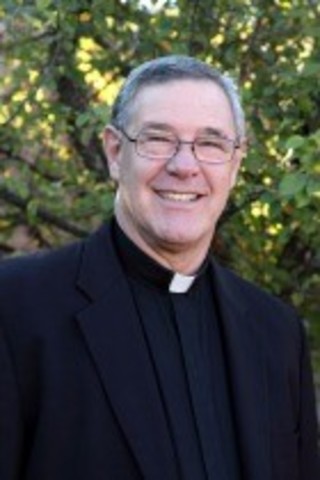 Fr. Steve Ulrick
A "pastor is the proper shepherd of the parish entrusted to him. He is to exercise his pastoral care in the community entrusted to him by the Archbishop. He is to teach, sanctify, and govern his community with the cooperation of other priests and deacons and with the assistance of lay members of the Christian faithful."
Fr. Steve Ulrick has been our shepherd at Holy Name of Jesus for nine years, caring for the souls in the parish with love and exemplifying this definition of a pastor which the Church gives us.
Like everyone, Fr. Steve has endured many challenges during this time of physical distancing. He calls himself a "relational person" and misses having people in the parish on a daily basis. Daily Masses continue to be celebrated by both Fr. Steve and Fr. Colin, but in private. The Sunday Liturgies are recorded, broadcast and joined spiritually by parishioners from Holy Name of Jesus, as well as many outside of our community, but the community's conscious and active participation in the Liturgy is not seen or heard. Things taken for granted, such as visual cues and feedback during homilies, are missing and so new and different preparations are needed.  
In addition to Masses, the work of the parish continues. Funerals, with small numbers of family, have continued and as the Archbishop has allowed, distribution of Holy Communion has been able to take place during the Easter season. It has been heartwarming for him to see the love our community has for the Eucharist, a "deep treasure", which perhaps some are re-discovering in our time away from Mass. 
Fr. Steve also spoke at length of the many graces that are occurring. During times of crisis, people turn to the Lord with intentionality and he's thankful for the prayers and support that have been offered for the parish and its priests. He sees growth in the amount of time families and couples are able to spend with one another. As regular activities have been cancelled, he hopes this time of family togetherness will strengthen marriages and family bonds. He also praised our community for being active and creative in maintaining connections to one another.
Like many of us, Fr. Steve is busier than ever, but is still finding some time to relax by riding his bike. Riding through the neighborhoods and trails in the area has also offered him a point of connection with members of the parish and community that he wouldn't otherwise be seeing at this time. 
Looking to the future, he sees very busy times ahead. Sacraments; Confirmations, Baptisms, First Communions, have been on hold and need to be celebrated. The Church will also prepare and plan for "new normal", which at this point is unknown, in order to bring us back together physically. As we go forward together, he asks for our continued support of Holy Name in whatever ways are possible for each of us.
Thank you Fr. Steve, we miss you!
(publication date May 11, 2020)
John 14:12: Amen, amen, I say to you, whoever believes in me will do the works that I do, and will do greater ones than these…
In this time of crisis, the resources of our parish continue to be used to support the works of Christ through our mission: Sharing in the Body of Christ, Seeking to Know the heart of Christ, Seeing the face of Christ, and Being the hands of Christ. This week we highlight Carol Bishop, parish administrator, and Michele Schatz, administrative support specialist. We share their experiences during this time of physical distancing, and ways in which they help our parish to remain spiritually connected.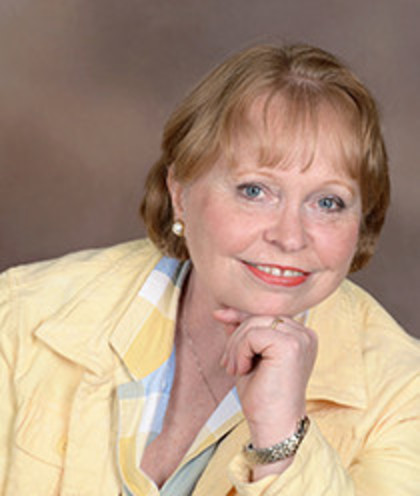 Carol Bishop
The role of parish administrator may not be familiar to everyone, but Carol serves our community in a crucial and broad role, overseeing our parish's finances, operations, facilities, and human resources.
Our current physical separation has brought Carol a combination of graces and challenges. The lack of a commute and other activities which normally fill up her time have led to a deepening of her prayer life. However, she misses being at Holy Name of Jesus in person and the interactions with parishioners and especially her colleagues, "the best staff" she's worked with.
While missing personal interactions, Carol doesn't feel distanced due to continual contact with parish and archdiocesan staff through web meetings, phone calls and email. Her past few months have been spent navigating the parish through challenges we could not have expected just a few months ago, and also keeping her eyes on the future to ensure plans are in place which allow Holy Name of Jesus to do Christ's work in the world, in spite of uncertainty.
Talking about the future, Carol quoted Ralph Waldo Emerson saying, "The years teach us much that the days never knew." While it's difficult to foresee what changes may come as a result of our recent challenges, she hopes that we approach the future prayerfully and generously.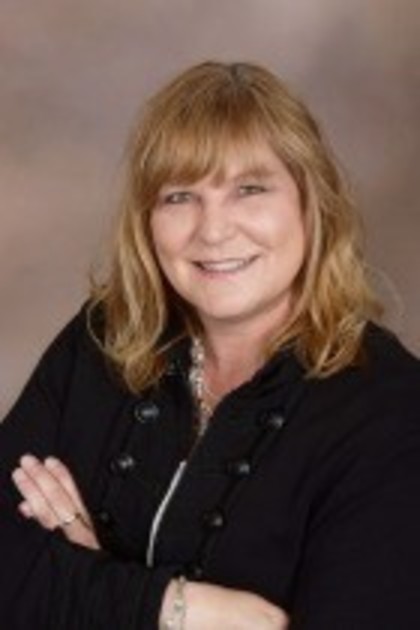 Michele Schatz
Michele Schatz is one of the first people you may encounter at Holy Name of Jesus. She has been the receptionist and chief greeter of visitors to the parish for nearly seven years.
One of Michele's favorite parts of her role at Holy Name of Jesus, and something she misses greatly, is seeing and interacting with the children who enter the doors daily. She is a welcoming face for them and keeps an entire drawer of stickers for them to choose from. While working from her home, she is helping to steward our spiritual connectedness by calling and talking with parishioners over 80 years of age, scheduling communion appointments and doing layouts for our parish publications. When she isn't working, Michele has been able to enjoy the warm spring by relaxing on her deck swing and going for prayerful walks in her neighborhood.
Michele describes Holy Name of Jesus as a strong, friendly and welcoming parish; a place where parishioners truly care for one another and the community around us. She encourages everyone's involvement by joining a ministry once this time of physical distancing is over. She may even be able to throw in a free doughnut or cookie for your time and effort!
Opportunities at Holy Name of Jesus: https://www.hnoj.org/serve/get-involved/current-volunteer-opportunities
Let's all join in thanking Carol and Michele as they continue to ensure Holy Name of Jesus is able to do the works of Christ in our world.
(publication date May 4, 2020)
John 10:9: I am the gate. Whoever enters through me will be saved…
The Holy Name of Jesus priests and staff have always provided our parish with many ways of hearing the voice of Jesus calling us toward his gate and have now added new ways for us to hear his words. This week, we highlight Fr. Colin Jones, Associate Pastor, and Michelle Hudlow, Director of Information Technology and Communications, their experiences during this time of physical distancing, and ways in which they help our parish to remain spiritually connected.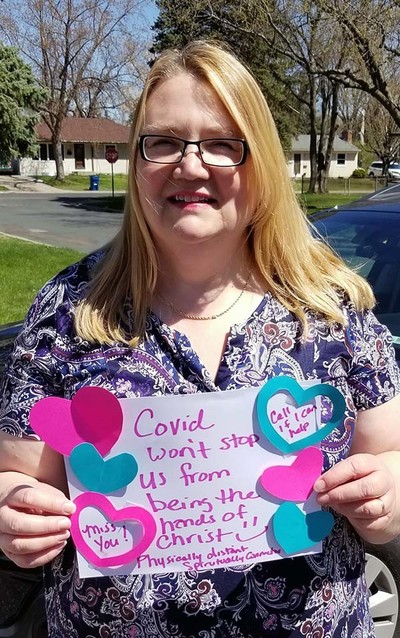 Michelle Hudlow
Michelle's work is easy to find, although you may not know it. If you read the weekly bulletin, visit any of HNOJ's social media sites, subscribe to the MyParish app or participate in the online Masses, you've seen the quality of the content (and sheer volume of it!) that Michelle and the team of administrative staff provide to our parish.
In talking with Michelle about her experiences during this time, her positivity shines through. While it has been difficult – her direct contact with parishioners has been mostly relegated to emails and some virtual meetings – she continues to point to the good. She sees the world connecting in new ways through our shared experiences and, in turn, increasing charity both within and outside of our parish.
These times are hard for everyone and Michelle encourages us all to continue "to share our experiences in order to strengthen our connections within the parish and community. If you would like share, please contribute your experiences at: https://www.hnoj.org/covid19reflections."
When she is not busy at HNOJ, Michelle enjoys spending time with her husband "glamping" and the company of her two dogs.
Thank you, Michelle, for all you do for our Parish!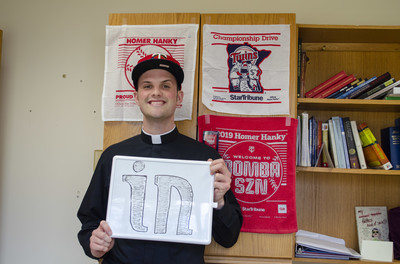 Fr. Colin Jones
With 10 months as Associate Pastor, Fr. Colin is one of the newest faces you'll find at Holy Name of Jesus. In this short amount of time though, he's become an integral and energetic part of our parish.
In addition to lamenting the lack of a baseball season this year, Fr. Colin expressed that what he's missing most are the interactions and conversations with parishioners after Masses. A self-described Sanguine extrovert, he's maintained connections though, albeit through other means; dropping in on virtual meetings of small groups and Bible Studies, continuing preparations for the Sacraments of Marriage and Baptism, and even occasionally stopping to chat (at an appropriate distance) with parishioners he sees while out running. He's also begun sharing Gospel reflections, "Thought of the Day with Fr. Colin", which can be seen daily on HNOJ's Facebook and Instagram.
Fr. Colin hopes that during these times we are taking moments every day to listen to the voice of the Lord in our lives. He challenges all parishioners to listen to where we're being moved and reflect on what God wants to harness in us once our period of physical separation is over. 
On May 26, Fr. Colin will celebrate the second anniversary of his ordination to the priesthood. Please join us in wishing him congratulations!