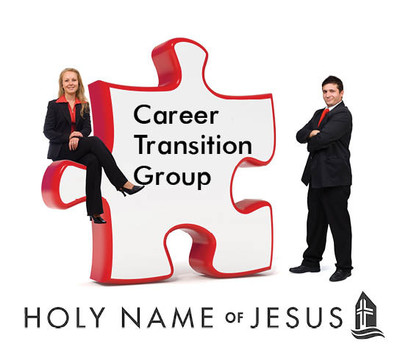 Most of us have been unemployed, in between jobs or interested in career development opportunities at some point in our lives. The Holy Name of Jesus Career Transition Group meets people where they are at. We provide a variety of tools, resources, and support to help people navigate through whatever stage they're currently in.
Upcoming Career Transition Meetings
Next Meeting: Thursday, June 20, at 7:30 a.m.
Topic:  Communicating with Confidence During a Life Transition 
Speaker: Gary Farmer
Life transitions can be subtle or abrupt.  Regardless of how they occur, life transitions force us to let go of the familiar and face the future with a feeling of vulnerability.  This vulnerability often is displayed in how we communicate with our self and with others.  Communicating with Confidence During a Life Transition will help you speak from a position of strength versus weakness when confronted with stress and an uncertain future.
Gary Farmer taught Speech Communication and English before transitioning to a career in medical device sales and marketing.  He spent over 25 years as a senior global marketing manager for St. Jude Medical, Medtronic, Inc., and other mid-and-small size medical device companies.  During his marketing career, Gary conducted physician presentation skills training and served as a sales trainer.  He currently serves as a volunteer for SCORE, a nonprofit organization affiliated with the Small Business Association (SBA). SCORE's mission is to provide educational resources and mentoring services for small business owners.  Gary conducts seminars on Presentation Skills for Small Business Owners as part of his volunteer activities with SCORE.
All are welcome.  Please invite a friend or colleague to join you.  
For more information on these meetings, or to offer your expertise as a guest speaker, see our website www.hnoj.org/career-transition-group or contact Deacon Dennis Hanson at 763-473-7901.
Resume Review - Free & Confidential
We have a specialist who has offered to review resumes and provide feedback. Contact Deacon Dennis at 763-233-0242 for more information.
Job Networking Resources
Our approach is to widen the networking circle for the job seekers by networking via email.
We have an ever-growing (over 600 people!) email database of people willing to help you broaden your network. Email Bill Corrigan and ask to be added to the distribution list. You will receive job postings from employers, information about other job groups and job search tips. Members of the e-mail database are encouraged to connect job seekers with leads and advice that may help their search.  Employers can send their job postings to this same email list. Ask for contact names of your target companies, have your resume reviewed, and ask for leads.
Entegee has a meet and greet every Tuesday.  Click here to download a flyer.