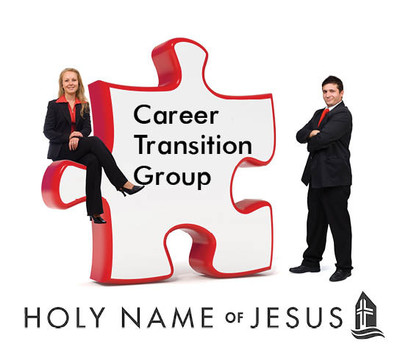 Most of us have been unemployed, in between jobs or interested in career development opportunities at some point in our lives. The Holy Name of Jesus Career Transition Group meets people where they are at. We provide a variety of tools, resources, and support to help people navigate through whatever stage they're currently in.
August's Meeting
August 15, 7:30 – 8:30 a.m.
Topic: Habits of Top Producers
Presentation by James Gapp, Professional Sales and Leadership Coach
James will share with us some principles, sales concepts and motivational ideas that have worked for The Southwestern Company for over 160 years.  James will be with us for the next hour or so focusing on "HABITS OF TOP PRODUCERS" as part of promoting the Professional Sales Coaching Program called Top Producer's Edge that is offered by the #1 corporate sales trainers' in the U.S., Southwestern Consulting.
IN THIS HIGH-ENERGY SESSION, YOU WILL LEARN:
Ideas for overcoming call reluctance and taking action
Tips for developing a top producer mindset to help keep yourself motivated every day
A strategy for uncovering your prospect's needs to prevent objections from ever happening
How to properly qualify prospects to shorten your sales cycle
5 tangible closing techniques to bring your clients to a quick decision and prevent unnecessary follow-up
Plus, you will walk away with practical ideas to more effectively manage your time and have better work-life balance.
About James Gapp: Truth, family, and freedom are some of my most important core values, and that is why I chose Southwestern Consulting, because they embody everything I believe in. I believe that anything is possible. I, through experience, have learned that having a proven system and an excellent coach empowers results to come quicker. Who you are will determine the results you get. If you work with an amazing company like Southwestern Consulting, then you are sure to succeed. Be the person, do the activities, and then reap the blessings.
Job Networking Resources
Our approach is to widen the networking circle for the job seekers by networking via email.
We have an ever-growing (over 600 people!) email database of people willing to help you broaden your network. Email Bill Corrigan and ask to be added to the distribution list. You will receive job postings from employers, information about other job groups and job search tips. Members of the e-mail database are encouraged to connect job seekers with leads and advice that may help their search.  Employers can send their job postings to this same email list. Ask for contact names of your target companies, have your resume reviewed, and ask for leads.
Entegee has a meet and greet every Tuesday.  Click here to download a flyer.