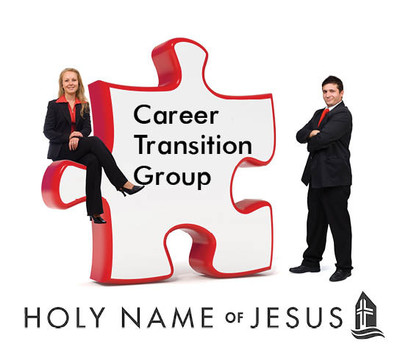 Most of us have been unemployed, in between jobs or interested in career development opportunities at some point in our lives. The Holy Name of Jesus Career Transition Group meets people where they are at. We provide a variety of tools, resources, and support to help people navigate through whatever stage they're currently in.
Thursday, April 15, 2021, 7:30 -8:30 a.m.
Topic: Career Transitions, Key Questions and Brain Science
Speaker: Tom Morley
Time: 7:30 - 8:30 a.m. (networking after meeting)
Location: Emmaus ABC
-What are common career transitions most of us face?
-What questions are helpful to ask ourselves/to work through at each transition?
-How do recent breakthroughs in brain science help us in transitions and the job search?

Bio:
Tom Morley has more than 30 years of experience in staffing and banking. He began his banking career as a teller working his way up to executive and small business lending. After 14 years in banking, Tom was hired by a business client and created a human resources department in a staffing firm where he worked for 22 years and served as Vice President of Human Resources. In January 2021 he left staffing to become an associate coach with WeAlign Coaching where he helps individuals discover their giftedness and experience joy and satisfaction in both work and life.

He has a Bachelor of Science Degree in Business from St. Cloud State University. He holds the SHRM – SCP (Society for Human Resource Management Senior Certified Professional), and SPHR (Senior Professional Human Resources HR Certification Institute) certifications. He is also a member of the Society for Human Resource
Management (SHRM).
Job Networking Resources
Our approach is to widen the networking circle for the job seekers by networking via email.
We have an ever-growing (over 600 people!) email database of people willing to help you broaden your network. Email Bill Corrigan and ask to be added to the distribution list. You will receive job postings from employers, information about other job groups and job search tips. Members of the e-mail database are encouraged to connect job seekers with leads and advice that may help their search.  Employers can send their job postings to this same email list. Ask for contact names of your target companies, have your resume reviewed, and ask for leads.
Entegee has a meet and greet every Tuesday.  Click here to download a flyer.