March 2023 Food Drive
Sometimes, the meaning of certain Bible verses can be difficult to grasp without the help of a theologian or a scripture scholar. But others are pretty obvious. Consider this passage from Matthew 25:
"For I was hungry and you gave me food, I was thirsty and you gave me drink, a stranger and you welcomed me, naked and you clothed me, ill and you cared for me, in prison and you visited me."
That's Jesus talking, of course, and the message seems pretty clear, doesn't it? He goes on to say:
"...whatever you did for one of these least brothers of mine, you did for me."
But, out here in the prosperous western suburbs, even this passage might seem a little abstract. Although we certainly all have friends and family who are sick at various times, it can be quite rare for most of us to have a direct encounter with someone who is hungry, thirsty or ill-clothed.
If we're paying attention, however, the sad reality is that the poor do live among us. And Jesus' message is clear: we are supposed to care for them.
Fortunately, even if we don't have many direct encounters with people in need, there is an easy way we can respond to the Lord's call. Since 1979, Plymouth-based Interfaith Outreach has worked with partners like Holy Name of Jesus to help individuals and families with food, housing, education, employment and transportation. Please stop by the table in the Gathering Space March 18-19 and speak to someone on the Outreach Committee to learn more about our partnership.
The Interfaith Outreach Food Shelf helped 907 households last year stabilize and strengthen by supplementing their budgets with food and household goods. Last year 602,561 pounds of food and household goods were distributed to meet the emergency and ongoing needs of families, kids, seniors and those with disabilities to make their budget work. Your generous donations make a difference to so many in need!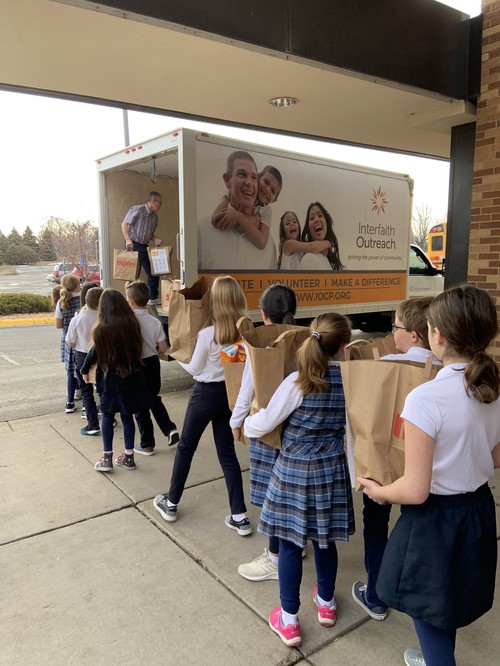 Our annual food drive with Interfaith Outreach will take place March 24-27. You'll be able to take home a grocery bag the weekend before and return it with your donations of food, baby formula, diapers, paper products, toiletries and more. 
Collection Times at Holy Name of Jesus:
Friday, March 24, from 2-7 p.m.
Saturday, March 25, from 4-6 p.m.
Sunday, March 26, from 8 a.m.-noon
Monday, March 27, from 8-10 a.m.
Thank you for answering Jesus's call to feed the hungry!
~ The HNOJ Outreach Committee    

Interfaith Outreach Most Needed Items