Childcare for our Friday MOPS group is currently at capacity. If you are interested in joining our Friday group and do not need childcare, please feel free to register for the Friday group.  Our Thursday group still has plenty of space for moms and kids. The link for registration can be found below. If you have questions please send us an email.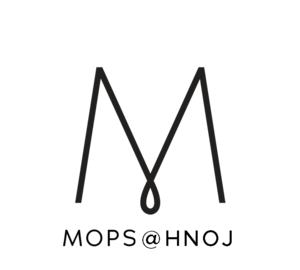 Whether you're expecting your first child, have a baby, toddler, or your youngest is in kindergarten, MOPS is for you! MOPS, or Mothers of Preschoolers, is an international organization with local groups that reflect the faith community where it is hosted. In our group here at HNOJ, you will find friends, mentors, speakers, and activities all focused on helping you be the mom and woman you were created to be. Childcare is always provided, as is a hot breakfast and coffee.
MOPS @ HNOJ believes in developing a fellowship of moms who support one another. We develop friendships in small groups during regular meetings throughout the school year. We believe in building up our faith community, so we plan events, like Moms' Nights Out, service activities, and family gatherings. We believe that we can do more as the hands of Christ together than individually. Therefore, we organize service activities to reach our broader community.
MOPS meets September through May.  There are two meeting options to choose from:
1st & 3rd Thursday from 9:15 -11:15 a.m.
1st & 3rd Friday from 9:15-11:15 a.m. (As of Sept. 4, Childcare for the Friday group is currently at capacity)
The cost is $100; which includes the MOPS International Membership and meeting costs, such as childcare, craft supplies, and speaker fees. When you register, MOPS  International will send you a welcome kit.
Register for the fall 2018 session today! Register here or email hnojmom@gmail.com with questions. Any mom (pregnant through kindergarten age) is welcome to join us!  Please contact Chris Kostelc at 763-745-3489 or email Chris for more information.
MOMSnext is a group experience that is designed to encourage, equip and develop mothers of school-age children, providing a community of hope and friendship that grows them as they mother. By building a safe and accepting community, MOMSnext seeks to deepen mothers toward finding and sharing the renewing hope of Jesus. MOMSnext is a new ministry arm of MOPS, Mothers of Preschoolers, extending the current mission statement to serve more mothers as their children grow.
MOMSnext has began their fall 2018 meetings. The meetings will be held on the 2nd and 4th Thursdays of each month, with a couple of scheduled adjustments, from 9:15 to 11:15 a.m. The cost is $75 for the year, and limited childcare spaces are available for younger siblings not in school for a small fee. The only requirement is that your oldest child be in 1st grade or older starting fall 2018. Mothers with preschoolers are encouraged to check out MOPS at HNOJ!  Note that registration is FULL at this time. However, please email Chris to be put on a waiting list. 
Please contact Chris Kostelc at 763-745-3489 or email for more information.