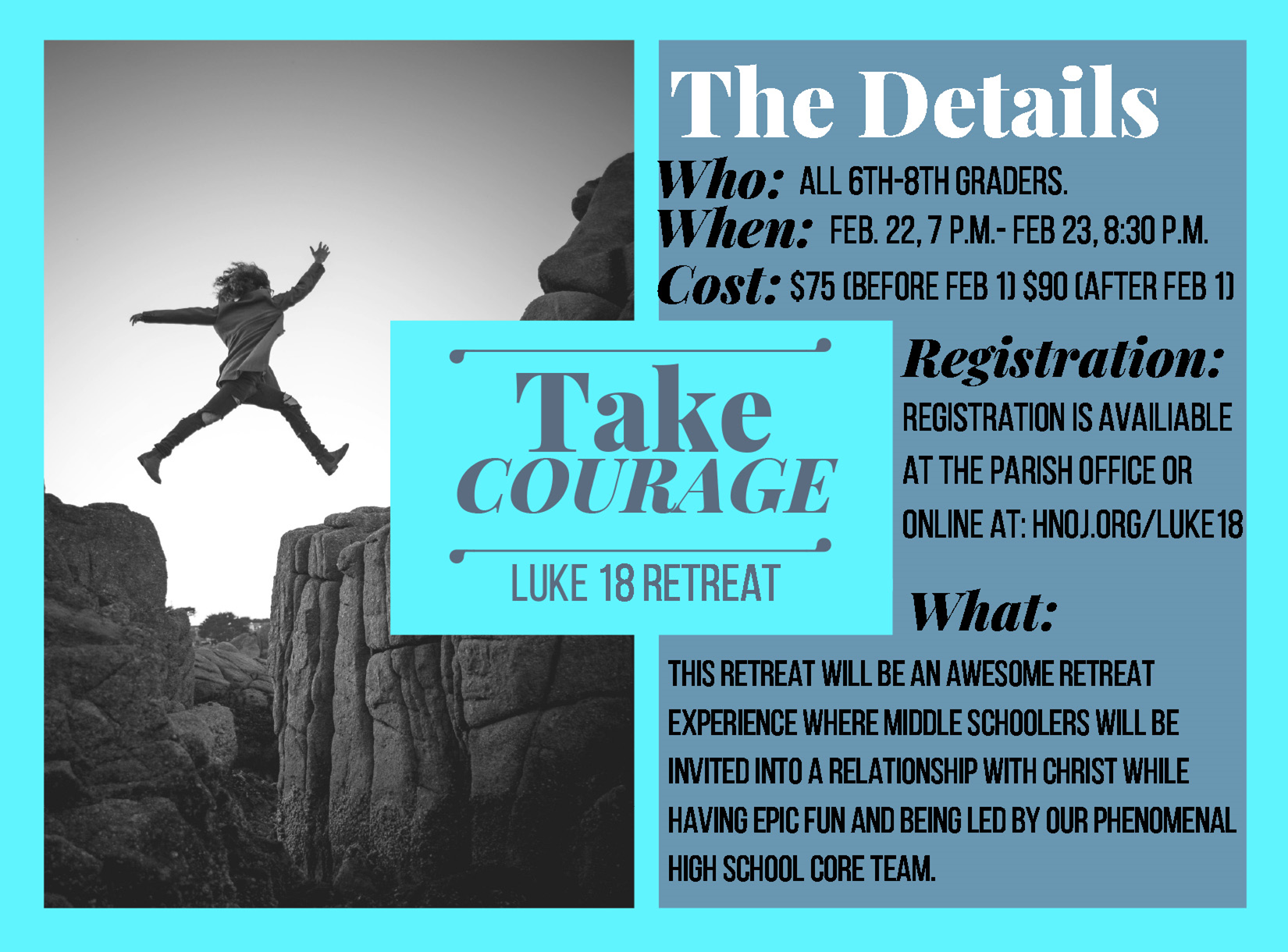 What is Luke 18?    This long-adored retreat experience is moving to the Spring and is NOW open to 6th graders! While a shorter version of the original Luke 18, this retreat will continue to be an awesome first-time retreat experience where middle schoolers will be invited into a relationship with Christ while having epic fun and being led

 by our phenomonal high school core team

.
When is Luke 18?    Friday, Feb. 22, 7 p.m. -- Saturday, Feb. 23, 8:30 p.m.
Parents are invited to join us at 7:30 on Saturday night for Adoration!
What's the Goal of Luke 18?  To empower middle school teens to live as disciples of Jesus Christ today. How? No gimmicks, real faith sharing, fun talks, great small groups, authentic relationships and an entire weekend for and with middle school teens.
How Do I Register?   Early Bird registration is now open. Click here or visit the Parish Office for forms. 
Early Bird Registration closes Feb. 1 ($75)
Registration from Feb. 1-Feb. 18 ($90)
Registration closes February 18th.
Questions?  Contact Ashley Cermak ~ 763-233-0251 or email Ashley
Core Team Members:  Registration forms to lead can be found here or on the bulletin board outside the youth lounge. Must attend all three planning meetings: Jan. 24 (7-8:30), Feb. 12 (7-8:30) and Feb. 17 (3:30-5:30). Questions? Contact Ashley!