Intro to Ascension School
Holy Name of Jesus Catholic Community and Ascension Catholic School and Parish have had a sister parish partnership for many years.  Ascension, located on the North Side of Minneapolis, serves children from the neighborhoods around the school. A vast majority of the scholars qualify for free or reduced lunch, an indicator of poverty set by the federal government. Children come to Ascension behind academically. With rigorous, data-based individualized instruction, scholars grow rapidly. Many make more than one year's growth during a school year. Ascension scholars come to recognize themselves as beloved children of God and learn essential social/emotional skills they will use throughout their lives. They go on to get their high school diplomas and to pursue post-secondary schooling.
Holy Name of Jesus parishioners give generously of their time, talent and treasure to Ascension.
How to get involved at Ascension
Pray for our scholars, staff and community.
Volunteer as a tutor or in another way. Download volunteer flyer.
Learn how you can become a tuition partner.
For more details regarding Ascension School, visit ascensionschoolmn.org.  Volunteer inquiries are welcomed by Margaret Conroy, Ascension Catholic Academy's volunteer manager. To learn about volunteer opportunities, visit ACAmn.org.
HNOJ Volunteers at Ascension
A Conversation with a Former Ascension Scholar
Ascension Outreach Weekend, May 20-21, 2023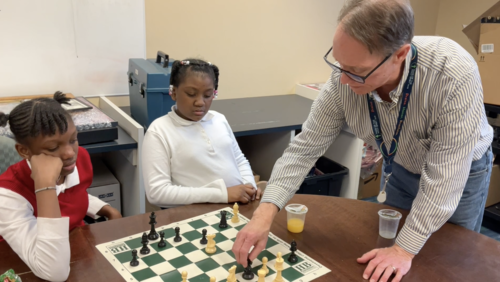 Ken Krepel wanted to find a way to volunteer after he retired from 3M, relocated to the west metro and joined Holy Name of Jesus. He originally thought it might be fun to start a chess club at HNOJ's school. But during a fortuitous conversation one day, Deacon Dennis told Ken that Ascension Catholic School in North Minneapolis might be receptive to the concept. In what Ken considers a "Holy Spirit" moment – he was headed in one direction and got a tap on the shoulder pointing him elsewhere – someone from Ascension contacted Ken and a chess club was born.
Three members of the chess club at Ascension recently finished fifth out of 25 as a team in their first-ever tournament. Ken is helping the participating scholars learn not just how to improve their chess strategies, but he's also helping scholars learn valuable life lessons.
Ken's experience is just one example of the relationship between HNOJ and Ascension, a partnership that's been going on for nearly thirty years. This year's annual Ascension Outreach Weekend will take place at Holy Name of Jesus during the Masses on May 20 and 21.
Ascension Catholic School - A Beacon of Hope
Ascension Catholic School has been an important presence in the heart of North Minneapolis for more than 125 years. Throughout its history, Ascension has served as both a reflection of its community and as an instrument for change and hope on the North Side of Minneapolis, helping move lives forward through education and spiritual formation.
Currently, 95% of the 308 scholars at Ascension Catholic School are children of color; 78% qualify for free or reduced lunch, which is a marker for poverty; and 14% are learning to speak English as a second language. Many scholars enter the school two to three grade levels behind. Yet, despite these challenges, Ascension 8th graders consistently outscore their peers on standardized math and reading tests and are much better prepared to enter high school. In fact, for the past several years, nearly 100% of Ascension 8th graders have gone on to receive their high school diplomas in four years, with a vast majority going on to college. This compares well with Minneapolis Public Schools, where 70% of Black and Hispanic students graduate high school on time.
A Safe Sanctuary During Challenging Times
The past few years have been difficult for all of us and particularly challenging for people in the neighborhoods surrounding Ascension. Civil unrest and increased violence have made personal safety a priority for all Ascension scholars and staff. It's hard to imagine the difficulties children face in trying to focus on schoolwork while being concerned about their health and personal safety. Ascension provides a safe learning environment. Staff and scholars believe in their ability to achieve, knowing that a strong education provides an opportunity to break the cycle of poverty.
Your Support is Vital to Ascension's Success
Ascension Catholic School is a beacon of hope in the heart of North Minneapolis. Given the difficult challenges of these past few years, Ascension needs our partnership more than ever to build on their past success. In fact, 95% of Ascension's general operating revenue is generated through sponsorships, individual donations, grant funding and second collection efforts. Roughly 4% comes from tuition and fees paid by families. 

Please consider a generous contribution as we highlight our sister parish during Ascension Outreach Weekend on May 20 and 21. You can pick up a donation envelope in your envelope packet or in the church pew, or go to hnoj.org/ascension to give electronically.
Volunteers Make a Difference
In addition to your financial partnership, volunteers are needed to support scholar excellence. Many Holy Name of Jesus parishioners are past or present volunteers. Roles include classroom and office support, math tutors, reading partners and aides in after-school programs. For more information, please contact Margaret Conroy, volunteer manager for Ascension Catholic Academy, at 763-760-3928, go to hnoj.org/ascension or speak with one of the friendly staff and volunteers after Masses on May 20 and 21. 
Article published in the May 2023 HNOJ Parish Newsletter
By Rob Hahn, Director of Communications at Ascension Catholic School
Archived Newsletter Articles
Ascension Outreach Weekend, Supporting A Future Full of Hope, Written by Larry Deeney, May 2022 Newsletter
An Opportunity To Support A Remarkable Success Story, Written by Larry Deeney, May 2021 Newsletter
How Do We Build A Sister Parish Relationship?, Written by Larry Deeney, February 2020 Newsletter
Sister Parishes: Growing By Sharing Gifts with Others, January 2020 Newsletter, page 8
Sister Parishes: Building on a Strong Foundation to Expand Discipleship, Written by Larry Deeney, December 2019 Newsletter, pages 6-7
Ascension Spotlight, March 2019 Newsletter
Ascension Spotlight Weekend and Second Collection, March 2018 Newsletter