Fall Festival 2018 is taking place on Saturday, Sept. 15!  Mark your calendars!
Volunteer sign up for Fall Fest 2018 is now open.  Sign up at http://www.signupgenius.com/go/70a0c4aada822a57-20181.
Fall Fest really needs a kids games tent coordinator.  If you can help schedule the volunteers and make sure things are running well, please consider serving.
We also need a sponsorship chair; if you like to make connections we need you!
Email Erik at ecarlsen100@gmail.com to express your interest.
2018 Sponsor Registration Information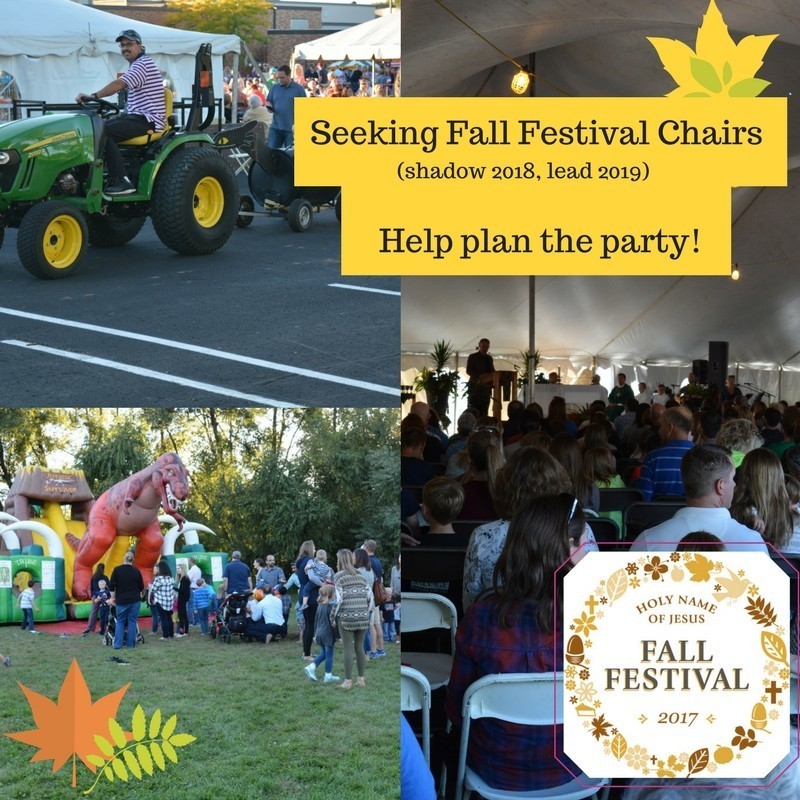 Fall Festival 2017 was Saturday, Sept. 16.
We had a great time!  Thank you to all of our volunteers and sponsors!  
The annual Fall Festival is our big kick-off to the ministry and school year at Holy Name of Jesus.  Join us as we celebrate our community with entertainment, delicious food, activities for all ages and good friends.
Fall Festival begins with the 2nd annual Turtle Trot 5K Saturday morning and continues with the much-anticipated festival Saturday evening.  Mark your calendar and join us for each of these events.
Many of your questions about Fall Fest will be answered below.  However, make sure to Like us on Facebook and Follow us on Twitter for the latest updates.  Use hashtag #HNOJFallFest.
Fall Fest is run by volunteers, funded by sponsors and donations
Many dedicated individuals, families, ministries and businesses working together make HNOJ Fall Festival a memorable and fun event each year. 
Here is how you can get involved:
Spread the word:  Join the conversation by using #HNOJFallFest on Facebook and Twitter to share your memories and what you are looking forward to.  Invite your family, friends and neighbors to join us!
Volunteers are needed to set up Friday or Saturday, sell tickets, be part of the stage crew, operate the dragon train, run kid's games, sell beverages and clean-up.  Sign-up online(link is external) or contact Michele Kirchoff at mkirchoff@hnoj.org or call 763-473-7901 x120.
Fall Fest sponsorship:  Contact Deacon Dennis at 763-473-7901 for more information about how you or your business can support Fall Fest through corporate sponsorship.  Or see box at right for more details as well.  Scroll to the bottom of the screen to support last years sponsors.
Country Market donations: The Country Market, organized by the Knights of Columbus Auxilliary accepts donations of garden produce, garden products (jams, jellies, etc.) and baked goods to stock the market.  They are also looking for themed baskets from each ministry.  All donations can be brought to the Country Market booth on the morning of Fall Fest.  Please contact Beth Dust at 636-697-6124 or bedust@msn.com with any questions.
Turtle Trot 5K – Saturday, Sept. 16, 10 a.m. start  Registration is closed
Join us for HNOJ's second ever fun run through the adjacent neighborhood.  The Turtle Trot 5K will start at HNOJ's driveway, continue through the adjacent neighborhood, and end back at the starting point.  Participants will not need to cross any busy streets! 
Family friendly, invite the kids and the neighbors!  Bring your strollers, but NO pets, skateboards, bikes etc.  If you are a student of HNOJ School your teachers will be on hand to cheer you on and help out. 
The registration fee is $25 per child, $45 per adult. Registeration is due by Aug. 25 and will also ensure a t-shirt in your requested size.  Also adults who register by Aug. 25 and volunteer at Fall Fest, are eligible for a $10 discount.  All proceeds of the Turtle Trot will help make Catholic education at HNOJ affordable for all.  Register online(link is external) or download the form.
Wear green and/or "turtle" attire or your race day t-shirt to be entered in a drawing for a prize.
Fall Fest is Saturday, Sept. 16, 4-10:00 p.m.
Kick off the Festival with us with Mass under the big tent at 4 p.m.  Only once a year do we offer an opportunity to enjoy Mass in the great outdoors. 
After Mass take part in any of the following activities at your leisure: 
Lazer Tag
Selfie Stand
Kids Games & Crafts 
Dragon Ride
Inflatables
Country Market with Silent Auction!
BINGO
Caricature Artist
Face Painting
Cookie Decorating
Sweepstakes
Bon Fire
Music & Dancing
Great Food
Entertainment
The Britins, a Beatles cover band will be playing live!  bring your dancing shoes!
Ticket Sales – Avoid Lines, Buy Your Tickets Early!
Avoid the long lines at the ticket booth.  Fall Festival tickets will be available for purchase after all the Masses the weekends of (TBD - watch for more info) and at the parish office after (TBD) during regular business hours.  Tickets are used for food, beverages and kid's games at Fall Fest.  Entrance to Fall Fest is free!
If you prefer to purchase your tickets at Fall Festival, we suggest you bring cash to shorten the wait time in the ticket line.
Sample Ticket Chart
Kid's Games/Activities   1-4 tickets or Unlimited Kid's Games Wristband $10
Pop/Water                         1 ticket
Beer/Wine                         5 tickets
Snacks                              1-5 tickets
Dinner Items                     2-5 tickets
Thank you to our 2016 sponsors!  These wonderful organizations help make this event possible. 
You could be pictured here this year!  Contact Michele Kirchoff at 763-473-7901 x120 for details.