HNOJ Spirit Wear For Sale Now Through July 10
Check out all of the t-shirts, sweatshirts, hats and more as you represent Holy Name of Jesus in our community! Youth and adult sizes are available with several color options.
This order link will be open through Sunday, July 10, 2022.
Spirit wear can be shipped to your home address or to the church for pick up. Select your option at checkout.
Click on the photo to order, or click here.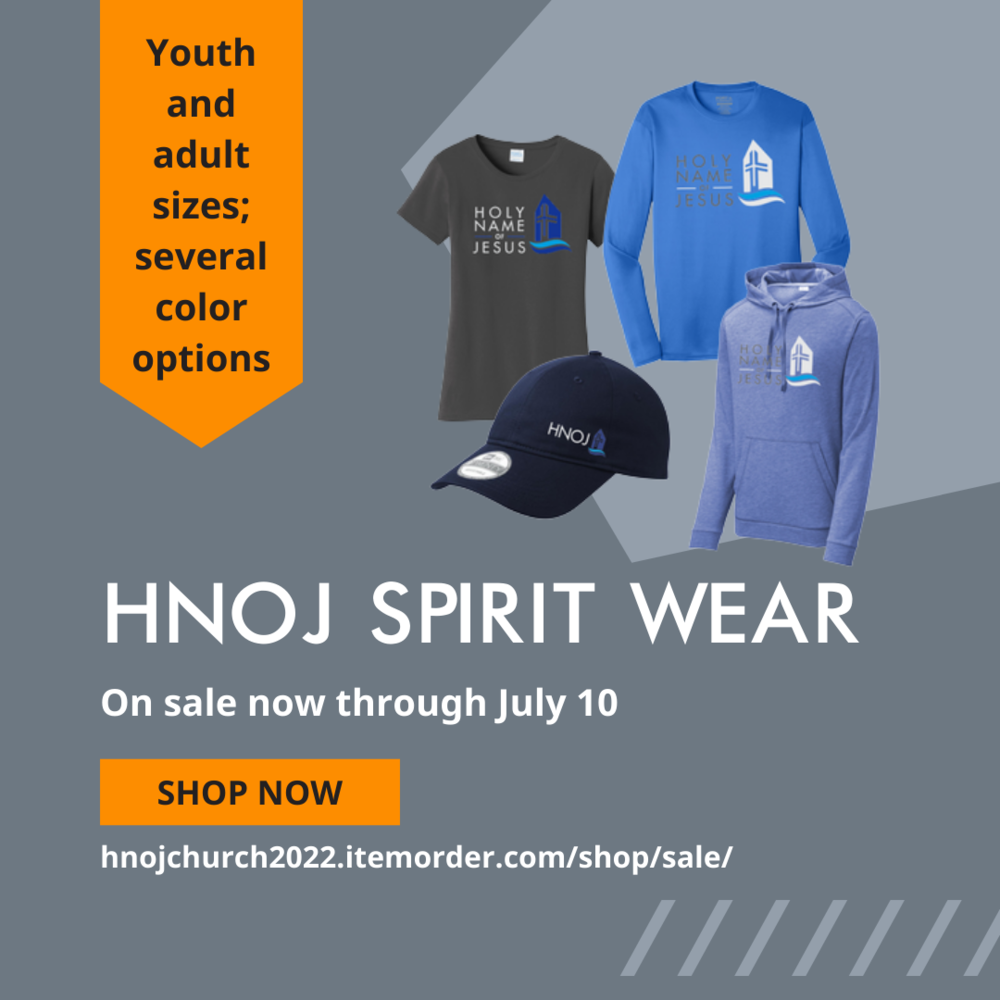 Thank You to our Graduating Ushers
This is the time of year for high school graduations!  We want to personally recognize the following sixteen teen ushers who are graduating last week or this week from high school and will head off to college or missionary work later this summer:
Name                                      High School                           College that they will attend
Liam Carney                           Providence Academy              High Point University (High Point, NC)
Danny Couri                           Wayzata High School              Iowa State University
Jimmy Fafinski                        Providence Academy              Miami of Ohio
Chris Festin                            Providence Academy              Washington University (St. Louis)
Nick Fogle                               Orono High School                 Denison University (Granville, OH) 
Luke Fredin                             Benilde-St. Margaret's            Iowa State University
Ryan Keller                             Providence Academy              NET Ministries
Emma Kelly                             Providence Academy              University of Chicago
Ryan Long                               Benilde-St. Margaret's            University of Southern California
Liv Nelson                               Wayzata High School              Drake University
Halli Nelson                            Benilde-St. Margaret's            College of St. Benedict
Kevin Reed                              Wayzata High School              Creighton University
Sam Swearingen                     Orono High School                 Carthage College (Kenosha, WI)
Jake Vanyo                              Orono High School                 Creighton University
Henry Wehmann                     Providence Academy              Ohio State University
William Wehmann                  Providence Academy              Penn State University
Thank you for your years of faithful service to Holy Name and its Mass liturgies. Good luck to you as you embark upon your new adventures!  We wish you continued happiness and success, and please know that you are always welcome back to Holy Name and our Usher Ministry when you return to town! ~ David L. Biek, Head Usher
Summer Hours Begin June 10
On Fridays during the summer months, the parish office will close at noon, beginning on Friday, June 10. 
Office Hours as follows:
Monday-Thursday: 8 a.m.-4 p.m.
Friday: 8 a.m.-noon
No Summer Nursery
Our nursery staff and volunteers will take a break over the summer months. Our last Sunday nursery will be June 4, and will resume August 21. Thank you!
3 Things This Summer
Check out the latest and greatest "3 Things" happening at Holy Name of Jesus Church this summer!
1. Are you headed to the cabin on weekends this summer? We have you covered with your Sunday night 5:30 p.m. Mass.
2. Are you looking for an adult small group or a summer book club? Do you want to register your child for Faith Formation next year? Register today!
3. Save the date for our annual Fall Festival that will be on Saturday, Sept. 17, 2022!
Communion Outreach
The Eucharist is at the core of our celebration each Mass. The sacramental signs become the Body and Blood of Jesus we receive.  At the Last Supper, sharing His Body and Blood with the disciples, Jesus said, "Do this in memory of Me" and so we do, through Holy Communion. The Eucharist not only brings us into communion with God, but with others as well.
For many, the bond of the Eucharist is felt and celebrated at Mass. But some members of the HNOJ community are not able to physically attend Mass. For this reason, HNOJ's Communion Outreach team has dedicated volunteers who go out into the community to visit and bring the Eucharist to those who cannot get to Church due to their circumstances.
At Holy Name of Jesus it is our joy and honor to be able to provide this ministry through our Communion Outreach Team. If you or someone you know is homebound in our parish area and would like Communion brought to them, please contact the parish office at 763-745-3492.  This ministry will be led by Steve Hayes and Maureen Laird-Hayes.
Adoration Hours Three Days Per Week
Our Adoration hours are currently Mondays, Tuesdays and Thursdays from 8:30 a.m. to 9 p.m., and we hope to have at least two registered adorers for each hour. We hope this step will eventually get us back to perpetual adoration, but we need your help! If you feel called to come and adore our Eucharistic Lord, signing up for an hour is easy! You can sign up by:
Thank you!
Share Your Photos and Short Videos
Do you take photos while you're at HNOJ that ought to be shared? Send them to us!
We love seeing photos and video taken by parishioners. It gives us a unique perspective on what you experience. It's especially helpful to have more photos and videos to use in our marketing materials such as social media, publications, our website and more.
In particular, the Stewardship Commission would like images or short videos that show your ministry!
Please make sure that all submitted photos and videos that depict people have the person(s) permission to share with HNOJ, and that they understand that HNOJ may publish these photos and videos in upcoming marketing materials, on our website, social media channels or any other medium.
Email photos and videos to photos@hnoj.org.  Please call Sarah Reid at 763-746-8194 with questions.
A few parishioners have received text or email messages from people pretending to be Fr. Steve. These messages states pretty generically that he would like your help.  When a person responds, they receive a reply requesting donations in the form of gift cards. Please know that text messages are fake and should not be responded to. Fr. Steve will never text or email you for gift cards.
In all cases, we have found that the contact information was "skimmed" from our website. This is a very common practice among spammers and is seen in businesses of all types. To help reduce the possibility of emails being copied from the website, icons with links to the email are used instead. This is not effective with phone numbers as a desktop would not be able to call out.
HNOJ takes security and the confidentiality of your data very seriously.  We have multiple systems in place to help keep us all as safe as possible. If you have any questions, feel free to contact Michelle Hudlow, Director of IT at mhudlow@hnoj.org or 763-233-0250.