Coronavirus Information
Also see our page www.hnoj.org/coronavirus for letters from Father Steve. At this time all programs, events and meetings are canceled through March 2020. Mass and Adoration are suspended. The church is open for prayer. The office is open from 9-3 weekdays.
Youth Faith Formation Coronavirus Update
School is closed March 16 - April 3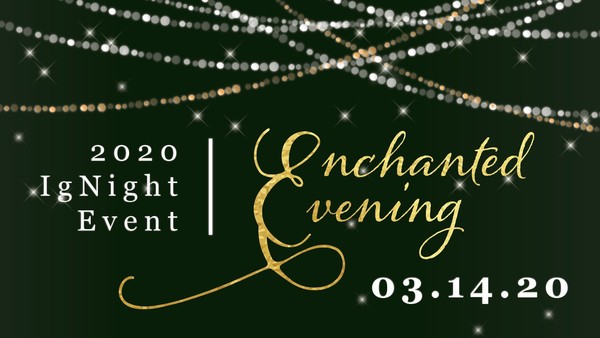 The IgNight gala will NOT be held on Saturday, March 14th.  We will be rescheduling in the coming months and will keep you posted.  Your raffle and event tickets will all still be honored.  We will keep you posted.  
A few parishioners have received text or email messages from people pretending to be Fr. Steve. These messages states pretty generically that he would like your help.  When a person responds, they receive a reply requesting donations in the form of gift cards. Please know that text messages are fake and should not be responded to. Fr. Steve will never text or email you for gift cards.
In all cases, we have found that the contact information was "skimmed" from our website. This is a very common practice among spammers and is seen in businesses of all types. To help reduce the possibility of emails being copied from the website, icons with links to the email are used instead. This is not effective with phone numbers as a desktop would not be able to call out.
HNOJ takes security and the confidentiality of your data very seriously.  We have multiple systems in place to help keep us all as safe as possible. If you have any questions, feel free to contact Michelle Hudlow, Director of IT and Communications at mhudlow@hnoj.org or 763-233-0250.
Staff Member on Administrative Leave
Dear Brothers and Sisters,
The staff and leadership of Holy Name of Jesus parish learned on Monday of this week that Susan Evans, our Human Resources and Operations Coordinator was charged with theft by the Wright County Attorney's Office related to her previous employment at Saint Francis Xavier parish in Buffalo. Consistent with policy, Susan has been placed on unpaid administrative leave, pending the outcome of the legal proceedings.
At no time during her employment has Susan had access to parish funds or payroll programs, as that was not her role here. That said, we have been reviewing our financial accounts, along with our accounting practices and procedures, to ensure we continue to employ best practices, and we have found no irregularities or red flags.
It is probable that resolution will take some time. We ask that you pray for all involved.
Sincerely in Christ,
Father Steve Ulrick        Frank Rondoni            Steven Hayes
Pastor                             Parish Trustee            Parish Trustee
Dear friends of Holy Name of Jesus,
Greetings! My name is Fr. Colin Jones, and I have the privilege of being your new associate pastor here at Holy Name of Jesus. I'm incredibly excited for this new assignment that the Lord has given me, and I look forward to growing in holiness with all of you during these coming years!
I was ordained a priest by Archbishop Hebda in 2018, so I've got a little over a year under my belt. For most of this past year, however, I have been over in Rome at the Pontifical North American College, where I've been finishing up my license degree in Biblical Theology. I'm immensely grateful for the opportunity I had to be in Rome this year finishing up those studies, but I'm sure you can imagine how happy I am to be back in the archdiocese for good, and to begin this new assignment at HNOJ.
I grew up in Shoreview, Minnesota, right across the street from my maternal grandparents, surrounded by wonderful aunts, uncles, and cousins. We lived on Turtle Lake, and I loved every minute of lake life! My five younger siblings and I were all homeschooled growing up. We were a part of various homeschool family "co-op's" throughout the years; which meant that I was blessed with a great network of families and friends who supported me and kept me close to Jesus, especially when I might not have been so eager to wake up for Mass! Between being an altar boy at Mass and my family's strong practice of daily prayer, the Lord definitely planted the seed of my vocation from an early age. I remember getting to know some amazing priests at our home parish of St. Charles Borromeo in St. Anthony Village, and thinking that it would be really cool to do that someday. The desire ebbed and flowed, as it often does, especially in high school, but I'm grateful to God for my great friends and some wonderful priest mentors who continued to ask me if the Lord might be calling.
I decided to give seminary a shot right after high school, and the peace I felt there was out of this world. I spent four years at St. John Vianney College Seminary in St. Paul, where I studied philosophy, Catholic Studies, and classical languages, and became a proud Tommie. After four years at UST, the Archbishop asked me to study theology over at the North American College in Rome, and those years too were full of remarkable blessings.
Now I get to be here at Holy Name of Jesus with all of you, and I couldn't be more grateful that the Lord has put me here! As far as hobbies go, I have always loved sports. I'm usually a significant liability on the court/rink/field, but I'm always down for pick-up-whatever, and I enjoy cheering for and commiserating about the local squads, especially the Twins. I also love languages, historical fiction, camping and fishing. I'm so greatly looking forward to meeting all of you and growing together as disciples of Jesus Christ. I ask that you please keep me in your prayers as I begin this journey; I will certainly be holding you in my prayers as well!
Fr. Colin Jones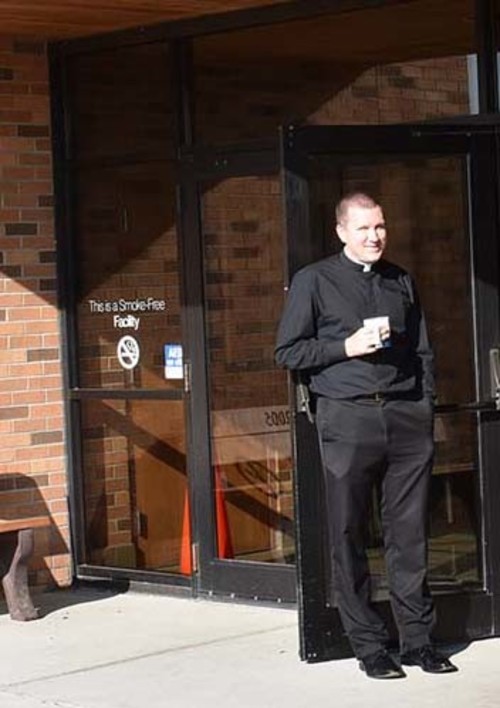 Fr. Evans announced that he had been asked to take on another assignment. His last day with us will be Sunday, June 30.  He has left a huge impact on our parish. Please join us for a farewell reception after the 8:30 and 10:30 a.m. Mass in the Good Samaritan Center.  
From the Archdiocese: Data Breech Notice
February 16, 2019
The Archdiocese of Saint Paul and Minneapolis learned Thursday night that hackers outside of the United States compromised an Image-I-Nation Technologies (INT) database that contained personal information on some employees and volunteers in the Archdiocese. INT, a vendor used by the company that conducts our background checks advised that it is sending notifications to all persons whose information may have been accessed. We are sending this notice so that if you receive a letter from INT, you know that it is authentic. We will continue to follow up with INT and our vendor about this problem.
For more information on the data breach and how you may be affected, please contact Image-I-Nation at: 1-877-296-9970.
For other questions, please contact Joe Kueppers, Chancellor for Civil Affairs, Archdiocese of Saint Paul and Minneapolis at: 651-291-4405.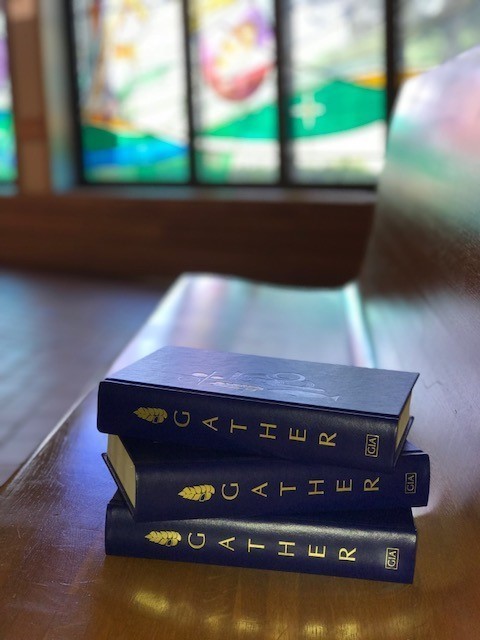 Agreement to Resolve the Bankruptcy of the Archdiocese
On May 31, 2018, it was announced that an agreement has been reached to resolve the bankruptcy of the Archdiocese. The Most Reverend Bernard A. Hebda, Archbishop of Saint Paul and Minneapolis, forwarded a letter regarding the resolution of the bankruptcy and also a Q & A sheet.  Both documents will be available in the gathering space this weekend.