Our Condolences to Fr. Steve and His Family
Verna L. Ulrick, mother of Reverend Stephen D. Ulrick, passed away on Thursday, Jan. 6, 2022.
A funeral Mass will be celebrated on Tuesday, March 1, at 11 a.m. at the Church of Our Lady of the Lake, 2385 Commerce Boulevard, Mound, Minnesota with a visitation one hour prior to Mass at the church.
Interment will be at Fort Snelling National Cemetery, Minneapolis following the funeral Mass in Minnesota.
Please keep Verna and all who mourn her passing in your prayers.
Condolences may be directed to:
Reverend Steve Ulrick
Church of the Holy Name of Jesus
155 County Road 24
Wayzata, MN 55391-9614
Communion Outreach
The Eucharist is at the core of our celebration each Mass. The sacramental signs become the Body and Blood of Jesus we receive.  At the Last Supper, sharing His Body and Blood with the disciples, Jesus said, "Do this in memory of Me" and so we do, through Holy Communion. The Eucharist not only brings us into communion with God, but with others as well.
For many, the bond of the Eucharist is felt and celebrated at Mass. But some members of the HNOJ community are not able to physically attend Mass. For this reason, HNOJ's Communion Outreach team has dedicated volunteers who go out into the community to visit and bring the Eucharist to those who cannot get to Church due to their circumstances.
At Holy Name of Jesus it is our joy and honor to be able to provide this ministry through our Communion Outreach Team. If you or someone you know is homebound in our parish area and would like Communion brought to them, please contact the parish office at 763-745-3492.  This ministry will be led by Steve Hayes and Maureen Laird-Hayes.
Adoration Hours Expanding
Starting the week of Aug. 16, we hope to expand our hours for Eucharistic Adoration! Our proposed new hours would be Mondays, Tuesdays, and Thursdays from 8:30 a.m. to 9 p.m., and we hope to have at least two registered adorers for each hour. We hope this step will eventually get us back to perpetual adoration, but we need your help! If you feel called to come and adore our Eucharistic Lord, signing up for an hour is easy! You can sign up by:
Creating an account online at https://hnoj.weadorehim.com/
Or you can call Holy Name of Jesus at 763-473-7901 and ask for Ryan Glaser, the summer seminarian (extension 194)
Or you can email Ryan directly.
Thank you for your consideration!
A Message From Fr. Colin Jones
Dear friends of Holy Name of Jesus,
As you may have heard, I have been asked  by Archbishop Hebda to take on a new assignment, beginning June 9. I know that, for many of you, this news was not exactly surprising, as the associate pastors at Holy Name of Jesus are typically reassigned after a year or two. However, this obviously does not change the fact that it will be hard to say goodbye!
I have truly enjoyed and cherished my two years of life and ministry here at this beautiful parish and I will carry all of you with me in my heart as I embark upon this new adventure that the Lord has in store.
The next step for me is a very exciting one and one which came as quite a surprise. The Archbishop has asked me to work as a faculty priest at St. John Vianney College Seminary on the campus of the University of St. Thomas in St. Paul! In this role, my primary tasks will be mentoring the college seminarians (ages 18-24) in formation meetings and group fraternity, offering spiritual direction to them and teaching an introductory course in the Catechism of the Catholic Church and Christian Spirituality. Together with the five other priests on faculty, I will be helping these young men to discern God's call for their lives and forming them to be generous priests or honorable husbands and dads (if the Lord calls them to step out of priestly formation).
Needless to say, it is very important work for our Church universally and locally, and I am deeply honored to be given this task. Of course, one can only form men for the priesthood if one understands it and I know for certain that you have helped me to understand the priesthood in so many profound ways in these past two years. Be assured that I will bring the relationships and experiences of HNOJ with me to this new assignment, with the goal of helping our future shepherds to serve you one day with joy and generosity of heart.
I will be here at Holy Name of Jesus until June 9 and I hope to see many of you and have a chance to say goodbye before that time! Know of my prayers for you, as I entrust myself to yours.
In Christ and Our Lady,
Fr. Colin
Thank You Ushers
Congratulations to the following fifteen teen ushers who will graduate from high school in June and are heading off to college:
Name                                               High School                                    College that they will attend
Chidera Anyamele                          Maple Grove High School              Loyola University Chicago
Sofia Caballero                               Providence Academy                     University of St. Thomas
Allison Cafferty                                Wayzata High School                     University of Minnesota
Sean Donohue                               Providence Academy                     St. John's University
Luke Erickson                                 Orono High School                         Creighton University
Jack Ginther                                    Wayzata High School                     Still deciding
A.J. Grogg                                       Wayzata High School                     Drake University
Patrick Hagerty                               Wayzata High School                     St. Olaf College
Cade Hanson                                  Wayzata High School                     John Paul the Great Catholic University (San Diego, CA)
Colby Kern                                       Delano High School                        St. John's University
Maggie Kittridge                              Orono High School                         University of Iowa
Grant Lansing                                 Wayzata High School                     Iowa State University
Frank Lizzi                                       Benilde-St. Margaret's                    St. John's University
Grace Patnode                                Wayzata High School                     North Dakota State University
Roxy Sammond                              Wayzata High School                     University of St. Thomas
Thank you for your years of faithful service to Holy Name of Jesus and its Mass liturgies.  Good luck to you as you embark upon your new adventures!  We wish you continued happiness and success! David L. Biek, chair, Usher Ministry.
Nov. 25, 2020 Letter From Fr. Steve
Greetings,
As you know, over the next four weeks our health care system is at a critical point as admissions to hospitals are surging. In addition to our prayers for those who are ill and for those caring for them, I believe there may be additional opportunities for us to do what we can to help slow down the spread of covid-19. Archbishop Hebda is asking parishes to consider postponing or moving to a virtual realm parish meetings and group gatherings planned for December.  
This week our staff began to examine the activities scheduled between now and Christmas to determine what we could postpone, reschedule, or move to a virtual (zoom or Livestream) format. I realize that many groups normally take a break in December so I don't expect this to be too much of a burden. However, our staff is contacting groups that meet during the week to determine how best to proceed. Please call the parish office if you have any questions. All information concerning Holy Name of Jesus School will be sent to parents through the School Office. Our goal is to do all we can to help minimize the spread of the virus and keep people as safe as possible.
We continue to celebrate Sunday Mass both in-person and through our recorded Mass online. The dispensation from the Sunday Mass obligation continues, so if you are in an at-risk category (older than 65, have compromised health, etc.) you are encouraged to worship with us virtually. Daily Mass is celebrated Monday through Friday at 8am. You are always welcome to join us.
Also, remember to stay home if you are not feeling well or if you are awaiting the results of a COVID-19 test. These small sacrifices are vital to minimizing the spread of the virus.
Finally, I pray that you will have a blessed Advent as we await the celebration of the Lord's birth at Christmas.
Fr. Steve Ulrick
Pastor
Note, the cover article in the August newsletter was written and sent to the publisher before the Gov. Tim Walz mask mandate was announced. In keeping with the mandate, masks are required in the building and at Mass in accordance with state guidelines.
Share Your Photos and Short Videos
Do you take photos while you're at HNOJ that ought to be shared? Send them to us!
We love seeing photos and video taken by parishioners. It gives us a unique perspective on what you experience. It's especially helpful to have more photos and videos to use in our marketing materials such as social media, publications, our website, and more.
In particular the Stewardship Commission would like images or short videos that shows your ministry group meeting in spite of the pandemic.  Could be a virtual meeting screenshot, an in the parking lot video, or back yard meeting with physical distancing.  
Please make sure that all submitted photos and videos that depict people have the person(s) permission to share with HNOJ, and that they understand that HNOJ may publish these photos and videos in upcoming marketing materials, on our website, social media channels or any other medium.
Email photos and videos to photos@hnoj.org.  Please call Michelle Hudlow at 763-233-0250 with questions.
Mass to Resume with Limited Attendance and New Protocols May 30
Dear Members of Holy Name of Jesus,
I am pleased to announce that we will resume our celebration of Mass beginning this weekend with the Feast of Pentecost on Saturday, May 30, at 5 p.m. Our weekend Mass schedule will remain the same.
As you know, Governor Walz signed an executive order allowing faith communities to celebrate Mass and accommodate up to 250 people or 25% of church capacity, whichever is less, provided that all the necessary precautions to protect public health are implemented. Here at Holy Name of Jesus, we have reviewed those guidelines and made the necessary changes to keep everyone as safe as possible. We will adhere to the Governor's directive and limit our attendance to 250 at each Mass.
I care about your spiritual and physical health. Those who are considered at-risk (ages 65 and older and those with health conditions) and anyone who feels safer at home should continue to stay home and participate in Mass Online. The obligation to attend Sunday Mass is still suspended during the pandemic. For those attending Mass we have implemented some changes as outlined below.
Preparing for Mass:
If you are ill or if anyone in your home is ill, stay home and participate in Mass Online
We strongly urge you to wear a mask throughout the liturgy, please bring your own
Bring hand sanitizer for your own use if you have it
We recommend using the restroom before leaving home, as one family will be allowed in the bathroom at a time
There will be no paper worship aids provided, they will be available electronically on our webpage www.hnoj.org/mass-online
There is no nursery provided
Arriving at Mass:
We recommend that you arrive no earlier than 15 minutes before Mass to allow our custodial staff enough time to sanitize the church
Please enter the building through Door #1 or #2
A maximum of 250 people will be admitted into Church; we will not be able to welcome anyone after we have reached capacity
Please observe a distance of six feet between you (or your family) and others in every direction; we have marked every pew with 6' tape marks
In order to comply with social distancing directives, please limit restroom use to one family at a time
Ushers will welcome you and provide directions
Each person will be asked to use hand sanitizer upon entering the building. You may use your own or HNOJ will have some available
Ushers will help with seating; to meet social distancing guidelines, two out of every three pews have been roped off.
At Mass:
We recommend that masks be worn throughout the building
Collection baskets will be placed in the aisles to receive your gift (passing of the basket between rows has been suspended)
We will not hold hands during the Lord's Prayer, nor will we exchange the sign of peace
We will not be singing at Mass (see Judy Hodgson's explanation in the June Newsletter)
The distribution of Holy Communion has been modified:

Communion will be distributed after the final blessing
the Communion procession will follow social distance guidelines and the ushers will assist you
Only Sacred Hosts will be distributed, and it will be offered in the hand only

When you come forward for Communion please wear your mask, after answering "Amen" you may pull your mask down to receive Communion
After Mass:
Coffee and donuts will not be available until further notice
To maintain social distancing, please do not visit in the Gathering Space
The custodial staff will sanitize the church and prepare it for the next liturgy
Time Change for Daily Mass:
In order to better serve those who can't join us on Sunday we are adjusting the time of daily Mass to 8 a.m. Monday through Friday.  We will resume the Saturday 8 a.m. Mass in September.
Additional information is available at www.hnoj.org.
Sincerely,
Fr. Steve Ulrick
Pastor
An inherent risk of exposure to COVID-19 exists anywhere people are present.  COVID-19 is an extremely contagious disease that can lead to severe illness and death. According to the Centers for Disease Control and Prevention, senior citizens and people with underlying medical conditions are especially vulnerable to COVID-19. Holy Name of Jesus Catholic Community has undertaken precautionary cleaning, disinfecting, and implemented social distancing guidelines to help reduce the risk of exposure. 
However, Holy Name of Jesus cannot guarantee that visitors are 100% safe from exposure to COVID-19. Therefore, Holy Name of Jesus recommends that people over 65 or with underlying health conditions not attend Mass at this time and continue to worship online. Attendance at liturgies is at your own risk.  
New Letter from Archbishop Hebda, May 23, 2020
Archbishop Hebda released a new letter May 23 announcing that parishes can hold Mass with 25% capacity or 250 people, whichever is less. Read the full pdf letter or read the letter and/or watch the video on the Archdiocese website.
Fr. Steve and the liturgy commission have been planning HNOJ's return to a safe Mass and will have information and instructions to share on May 26. 
Letter from Catholic Bishops of MN, May 20,2020
Letter from Archbishop Hebda; Stay at Home Update
Coronavirus Information
Also see our page www.hnoj.org/coronavirus for letters from Father Steve. At this time all programs, events and meetings are canceled through May 2020. Mass is available online at www.hnoj.org/mass-online. Adoration is suspended. The church is open for prayer from 8 a.m. to 6 p.m.; please observe social distancing. 
Youth Faith Formation Coronavirus Update
School is closed March 16 - May 4
A few parishioners have received text or email messages from people pretending to be Fr. Steve. These messages states pretty generically that he would like your help.  When a person responds, they receive a reply requesting donations in the form of gift cards. Please know that text messages are fake and should not be responded to. Fr. Steve will never text or email you for gift cards.
In all cases, we have found that the contact information was "skimmed" from our website. This is a very common practice among spammers and is seen in businesses of all types. To help reduce the possibility of emails being copied from the website, icons with links to the email are used instead. This is not effective with phone numbers as a desktop would not be able to call out.
HNOJ takes security and the confidentiality of your data very seriously.  We have multiple systems in place to help keep us all as safe as possible. If you have any questions, feel free to contact Michelle Hudlow, Director of IT and Communications at mhudlow@hnoj.org or 763-233-0250.
Staff Member on Administrative Leave
Dear Brothers and Sisters,
The staff and leadership of Holy Name of Jesus parish learned on Monday of this week that Susan Evans, our Human Resources and Operations Coordinator was charged with theft by the Wright County Attorney's Office related to her previous employment at Saint Francis Xavier parish in Buffalo. Consistent with policy, Susan has been placed on unpaid administrative leave, pending the outcome of the legal proceedings.
At no time during her employment has Susan had access to parish funds or payroll programs, as that was not her role here. That said, we have been reviewing our financial accounts, along with our accounting practices and procedures, to ensure we continue to employ best practices, and we have found no irregularities or red flags.
It is probable that resolution will take some time. We ask that you pray for all involved.
Sincerely in Christ,
Father Steve Ulrick        Frank Rondoni            Steven Hayes
Pastor                             Parish Trustee            Parish Trustee
Dear friends of Holy Name of Jesus,
Greetings! My name is Fr. Colin Jones, and I have the privilege of being your new associate pastor here at Holy Name of Jesus. I'm incredibly excited for this new assignment that the Lord has given me, and I look forward to growing in holiness with all of you during these coming years!
I was ordained a priest by Archbishop Hebda in 2018, so I've got a little over a year under my belt. For most of this past year, however, I have been over in Rome at the Pontifical North American College, where I've been finishing up my license degree in Biblical Theology. I'm immensely grateful for the opportunity I had to be in Rome this year finishing up those studies, but I'm sure you can imagine how happy I am to be back in the archdiocese for good, and to begin this new assignment at HNOJ.
I grew up in Shoreview, Minnesota, right across the street from my maternal grandparents, surrounded by wonderful aunts, uncles, and cousins. We lived on Turtle Lake, and I loved every minute of lake life! My five younger siblings and I were all homeschooled growing up. We were a part of various homeschool family "co-op's" throughout the years; which meant that I was blessed with a great network of families and friends who supported me and kept me close to Jesus, especially when I might not have been so eager to wake up for Mass! Between being an altar boy at Mass and my family's strong practice of daily prayer, the Lord definitely planted the seed of my vocation from an early age. I remember getting to know some amazing priests at our home parish of St. Charles Borromeo in St. Anthony Village, and thinking that it would be really cool to do that someday. The desire ebbed and flowed, as it often does, especially in high school, but I'm grateful to God for my great friends and some wonderful priest mentors who continued to ask me if the Lord might be calling.
I decided to give seminary a shot right after high school, and the peace I felt there was out of this world. I spent four years at St. John Vianney College Seminary in St. Paul, where I studied philosophy, Catholic Studies, and classical languages, and became a proud Tommie. After four years at UST, the Archbishop asked me to study theology over at the North American College in Rome, and those years too were full of remarkable blessings.
Now I get to be here at Holy Name of Jesus with all of you, and I couldn't be more grateful that the Lord has put me here! As far as hobbies go, I have always loved sports. I'm usually a significant liability on the court/rink/field, but I'm always down for pick-up-whatever, and I enjoy cheering for and commiserating about the local squads, especially the Twins. I also love languages, historical fiction, camping and fishing. I'm so greatly looking forward to meeting all of you and growing together as disciples of Jesus Christ. I ask that you please keep me in your prayers as I begin this journey; I will certainly be holding you in my prayers as well!
Fr. Colin Jones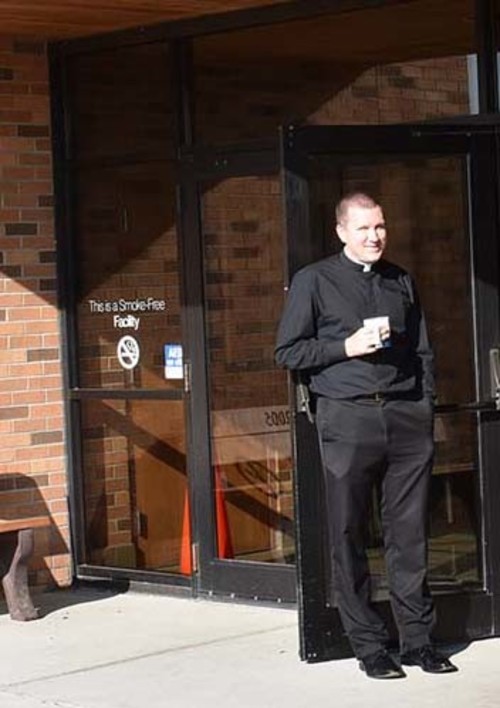 Fr. Evans announced that he had been asked to take on another assignment. His last day with us will be Sunday, June 30.  He has left a huge impact on our parish. Please join us for a farewell reception after the 8:30 and 10:30 a.m. Mass in the Good Samaritan Center.  
From the Archdiocese: Data Breech Notice
February 16, 2019
The Archdiocese of Saint Paul and Minneapolis learned Thursday night that hackers outside of the United States compromised an Image-I-Nation Technologies (INT) database that contained personal information on some employees and volunteers in the Archdiocese. INT, a vendor used by the company that conducts our background checks advised that it is sending notifications to all persons whose information may have been accessed. We are sending this notice so that if you receive a letter from INT, you know that it is authentic. We will continue to follow up with INT and our vendor about this problem.
For more information on the data breach and how you may be affected, please contact Image-I-Nation at: 1-877-296-9970.
For other questions, please contact Joe Kueppers, Chancellor for Civil Affairs, Archdiocese of Saint Paul and Minneapolis at: 651-291-4405.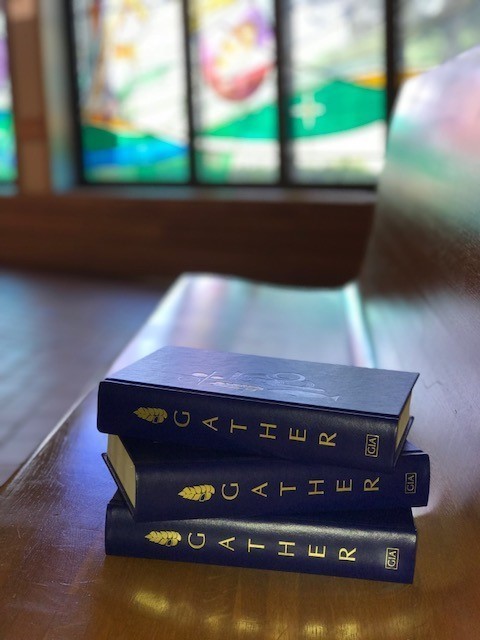 Agreement to Resolve the Bankruptcy of the Archdiocese
On May 31, 2018, it was announced that an agreement has been reached to resolve the bankruptcy of the Archdiocese. The Most Reverend Bernard A. Hebda, Archbishop of Saint Paul and Minneapolis, forwarded a letter regarding the resolution of the bankruptcy and also a Q & A sheet.  Both documents will be available in the gathering space this weekend.