Sunday Night Volunteers Needed
We are looking for three or so volunteers to help move some tables and chairs on a handful of Sunday nights from 5-5:30 p.m., right before Mass. This set-up is for youth ministry nights at HNOJ. The job is just a little too much for one maintenance guy to do on his own, so we need some help to make it happen.
Thank you!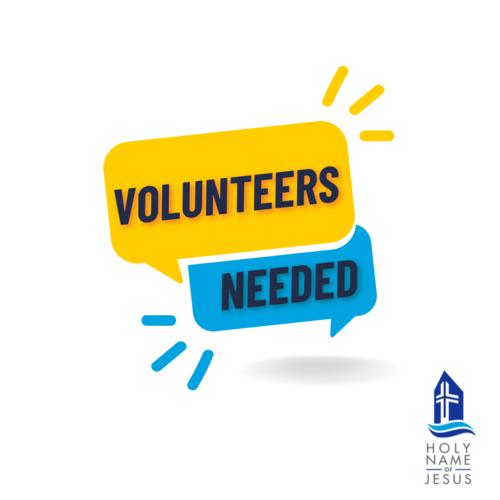 Advent at Holy Name of Jesus
Advent Masses
Nov. 27, Dec. 4, 11 and 18
8:30 and 10:30 a.m.; 5:30 p.m.
(Saturday Mass at 5 p.m.)
Advent Confessions 
Saturdays 8:30 a.m.
Wednesday, Dec. 7, 7-8 p.m.
Wednesday, Dec. 14, 6-8 p.m. (multiple priests)
Wednesday, Dec. 21, 7-8 p.m.
Solemnity of the Immaculate Conception of the Blessed Virgin Mary 
Masses for this Holy Day of Obligation are as follows:
Thursday, Dec. 8, at  6:30 a.m., 8 a.m., 9:15 a.m. (School Mass) and 6 p.m.
Please note the updated Adoration times on Dec. 8. Adoration will be from 10 a.m.-6 p.m. and 7-9 p.m. to accommodate our multiple Masses that day.
We will be using incense at the 10:30 a.m. and 5:30 p.m. Sunday Masses during the season of Advent. For those with sensitivities, you may wish to consider joining us at our 5 p.m. (Saturday) or 8:30 a.m. Mass where we will refrain from using any incense.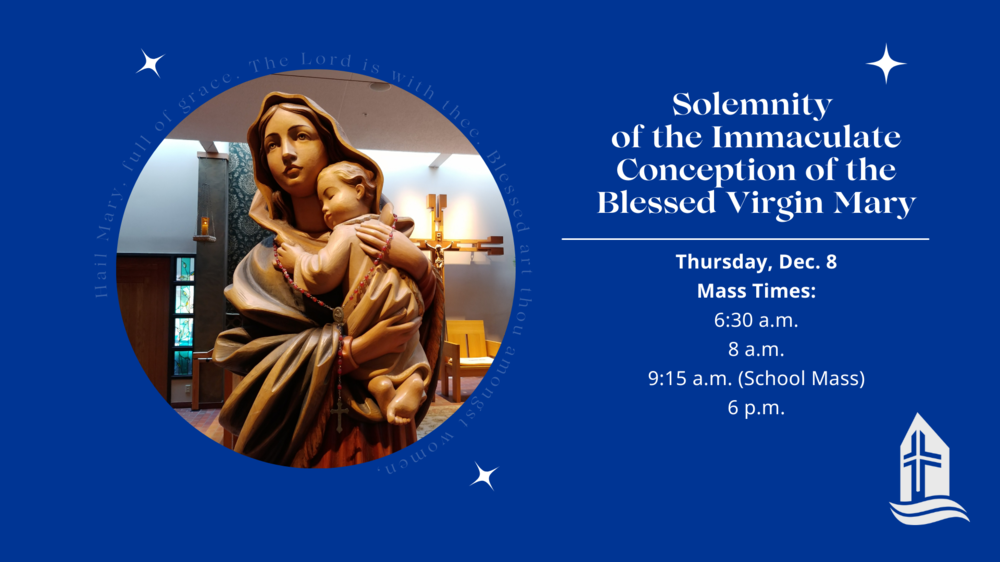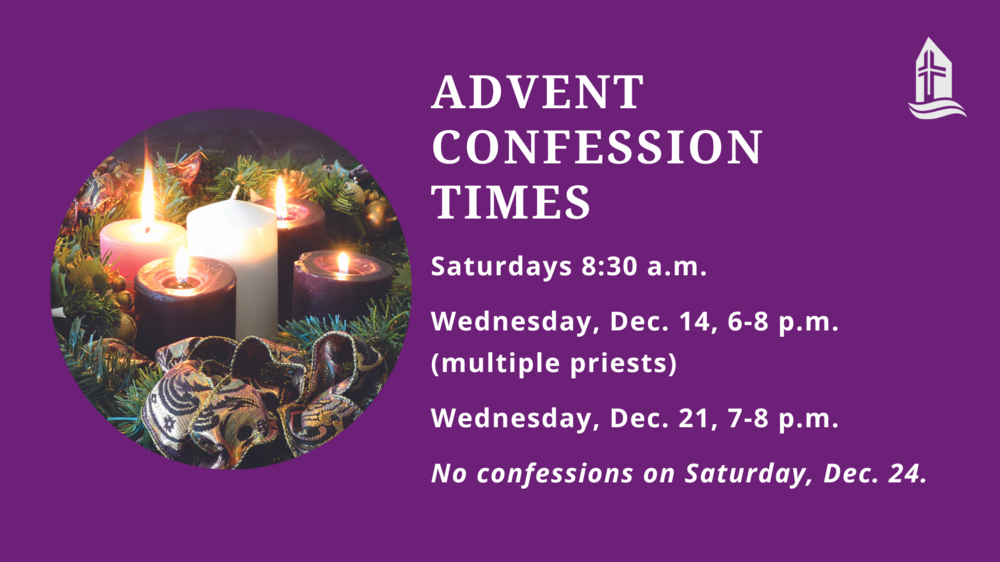 Christmas Masses 2022
Christmas Eve Masses - Saturday, Dec. 24, 2022
Join us as we prepare for Mass with choir anthems, congregational carols and special instrumental solos a half an hour prior to each Mass.
3 p.m. Mass in the Church - Children's Choir and Adult Handbell Choir (piano and organ)
3 p.m. Mass in the Good Samaritan Center – Sunday Evening Band (guitars, keyboard and drums)
5 p.m. Mass in the Church – Sunday Evening Band (guitars, keyboard and drums)
9 p.m. Mass in the Church – HNOJ Choir (piano and organ)
Christmas Day Mass - Sunday, Dec. 25
9:30 a.m. Mass in the Church – Contemporary Choir (piano and guitars)
Join us for a 15-minute prelude before Mass
(No 5 p.m. Mass)
 
Solemnity of the Holy Mother of God
Sunday, Jan. 1
Regular Mass Schedule

Communion Outreach
The Eucharist is at the core of our celebration each Mass. The sacramental signs become the Body and Blood of Jesus we receive.  At the Last Supper, sharing His Body and Blood with the disciples, Jesus said, "Do this in memory of Me" and so we do, through Holy Communion. The Eucharist not only brings us into communion with God, but with others as well.
For many, the bond of the Eucharist is felt and celebrated at Mass. But some members of the HNOJ community are not able to physically attend Mass. For this reason, HNOJ's Communion Outreach team has dedicated volunteers who go out into the community to visit and bring the Eucharist to those who cannot get to Church due to their circumstances.
At Holy Name of Jesus it is our joy and honor to be able to provide this ministry through our Communion Outreach Team. If you or someone you know is homebound in our parish area and would like Communion brought to them, please contact the parish office at 763-745-3492.  This ministry will be led by Steve Hayes and Maureen Laird-Hayes.
Adoration Hours Three Days Per Week
Our Adoration hours are currently Mondays, Tuesdays and Thursdays from 8:30 a.m. to 9 p.m., and we hope to have at least two registered adorers for each hour. We hope this step will eventually get us back to perpetual adoration, but we need your help! If you feel called to come and adore our Eucharistic Lord, signing up for an hour is easy! You can sign up by:
Thank you!
Share Your Photos and Short Videos
Do you take photos while you're at HNOJ that ought to be shared? Send them to us!
We love seeing photos and video taken by parishioners. It gives us a unique perspective on what you experience. It's especially helpful to have more photos and videos to use in our marketing materials such as social media, publications, our website and more.
In particular, the Stewardship Commission would like images or short videos that show your ministry!
Please make sure that all submitted photos and videos that depict people have the person(s) permission to share with HNOJ, and that they understand that HNOJ may publish these photos and videos in upcoming marketing materials, on our website, social media channels or any other medium.
Email photos and videos to photos@hnoj.org.  Please call Sarah Reid at 763-746-8194 with questions.
A few parishioners have received text or email messages from people pretending to be Fr. Steve. These messages states pretty generically that he would like your help.  When a person responds, they receive a reply requesting donations in the form of gift cards. Please know that text messages are fake and should not be responded to. Fr. Steve will never text or email you for gift cards.
In all cases, we have found that the contact information was "skimmed" from our website. This is a very common practice among spammers and is seen in businesses of all types. To help reduce the possibility of emails being copied from the website, icons with links to the email are used instead. This is not effective with phone numbers as a desktop would not be able to call out.
HNOJ takes security and the confidentiality of your data very seriously.  We have multiple systems in place to help keep us all as safe as possible. If you have any questions, feel free to contact Michelle Hudlow, Director of IT at mhudlow@hnoj.org or 763-233-0250.