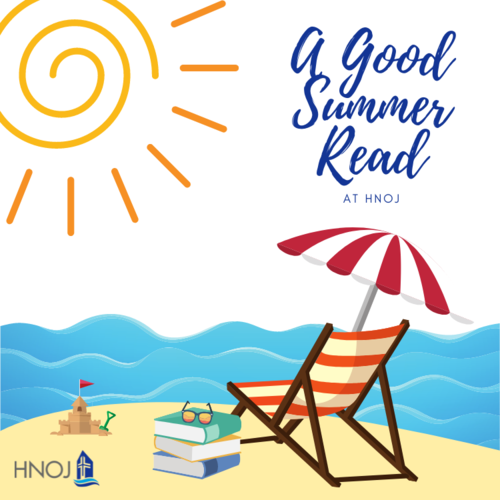 Summer is right around the corner. In addition to going to parades, eating hot dogs, and watching the sunset over the lake, summer means a good summer read. A good summer read is often different than what we might read the rest of the year and that is no different for HNOJ Adult Formation. 
This summer we are going to be doing a little summer book club with a choice of some amazing Catholic fiction. These titles will be a little more entertaining and a lot less work than what we might read together during the year, but our hope is that still have a depth and message that feeds us. 
Our meeting schedule will be set by poling those who register, but we anticipate meeting every other week from June through early August. This group is free but each member will have to source their own copy of the book. 
Take a minute to peruse the options for this summer and consider signing up for a good summer read (complete registration from after book descriptions). We will pick just one of these Catholic Classics to read this summer: 
By Graham Greene
How does good spoil, and how can bad be redeemed? In his penetrating novel The Power and the Glory, Graham Greene explores corruption and atonement through a priest and the people he encounters.
By Flannery O'Connor
A collection of short stories written in the Southern Gothic style of O'Conner. This was the work that made her famous in literary circles in 1955 and which established her grim, chilling style. One of the most widely read and highly acclaimed shorts stories ever written. 
By Shusaku Endo
Silence is the story of a young Portuguese priest named Sebastian Rodrigues who travels to Japan from Macao to confirm the impossible news that his mentor, Father Christovao Ferreira, has apostatized. A powerful tale of faith, doubt, and forgiveness. 
By C. S. Lewis
C.S. Lewis' The Great Divorce is a classic Christian allegorical tale about a bus ride from hell to heaven. An extraordinary meditation upon good and evil, grace and judgment, Lewis's revolutionary idea in The Great Divorce is that the gates of Hell are locked from the inside.