Through HNOJ Christmas Giving, our community generously donates items for Operation Christmas Child, students at Ascension Catholic School and children at Sharing and Caring Hands and Mary's Place through Santa's Toy Box. From late October through mid-November, parishioners are encouraged to learn about each of these giving opportunities and consider generously contributing to any—or all!—of these important causes.
From November 9-20, we collect items for Operation Christmas Child, Ascension Catholic School and Santa's Toy Box all in one convenient place designated in the Gathering Space.
This year our Operation Christmas Child party takes place on Wednesday, Nov. 20 from 5-7 p.m.  The packing and wrapping of shoeboxes will take place in the gym.  We will also have a traditional Thanksgiving dinner available in the Good Samaritan Center from 5:15-7:00 p.m. thanks to our fabulous Wednesday Fine Dining Crew!  Free will donations for the meal are accepted and appreciated.  
Opportunities to Give: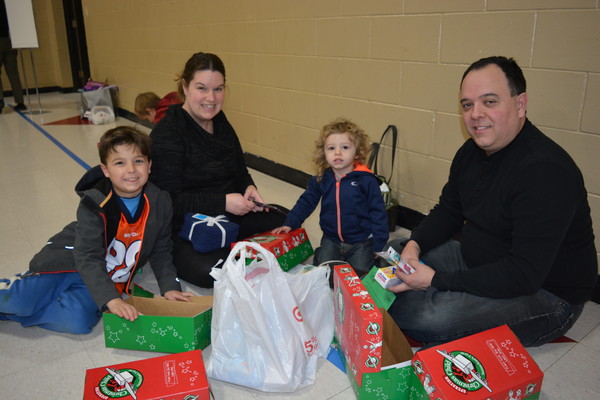 Operation Christmas Child provides basic items and Christmas toys for children in need by packing shoeboxes and sending them throughout the world. The following items would be wonderful additions to the supplies we will use to pack shoeboxes at our Operation Christmas Child Party:
Basic school supplies (that will fit in a shoebox)
Bar soap
Washcloths
Toothbrushes (no toothpaste)
Combs and hairbrushes
Small toys or games (no toy weapons)
Small stuffed animals
Picture books
Shoeboxes
Wrapping paper
Tape
PLEASE NOTE: We are no longer able to accept toothpaste or candy due to difficulties with customs when shipping the shoe boxes.
Sponsor a shoebox by writing a check to Samaritan's Purse for $9 OR you can also sponsor your box by paying online at samaritainpurse.org/occ and print out your shipping confirmation. (Each box we send must be accompanied by a check or printed shipping confirmation for shipping)
Donations of gently used toys, stuffed animals and picture books are welcomed and appreciated! Every item we gather will give great joy to a child half a world away! Begin gathering donations now, and make plans to join in the packing fun on Wednesday, Nov. 20.
For more information about Samaritan's Purse and Operation Christmas Child, please visit www.samaritanspurse.org/occ.
Giving to Ascension Catholic School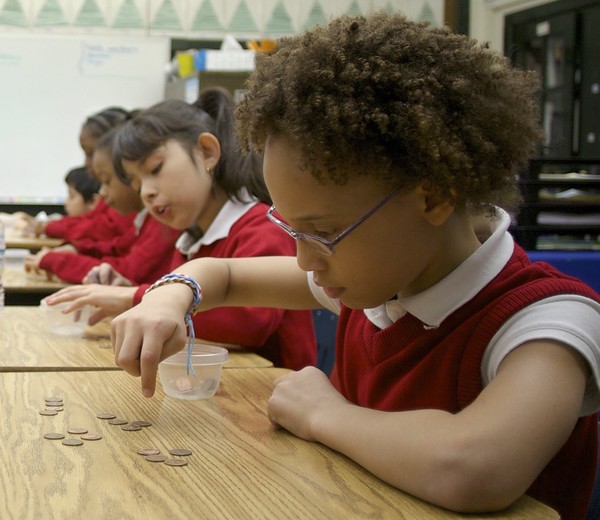 Ascension Catholic School is a place where students defy the odds. In the midst of poverty (86% of students qualify for free or reduced lunch), students are excelling academically, beyond state averages. In addition, 100% of Ascension students who recently finished eighth grade moved on to graduate high school. In place of our Ascension Gift Bag Program, this year we will collect items in bulk. You can donate basic items and toys for children at any grade level (K-8).
Examples of items include:
 Hats, mittens and gloves                                                      
 Crafts, playing cards, board games
 Balls, Frisbees, sidewalk chalk, outdoor games
 Handheld electric games
 (if it takes batteries, please include extra)
 Action figures, dolls (of color, please)
 Books (preferably books with characters of color)
 Grade-specific flash cards
Giving to Santa's Toy Box
Santa's Toy Box serves children at Sharing and Caring Hands and Mary's Place. These children are homeless or in transition, and we can offer the comfort and care of Christmas through our contributions. The gifts you donate will make a big difference in the life of a child on Christmas morning!  New and unwrapped gifts are needed for children of all ages (including teens).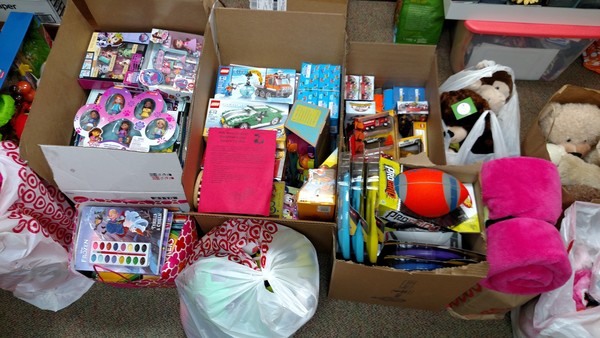 Examples of toys and activities you can donate include:
 Balls, Frisbees and Sports Toys (many children staying at Sharing and Caring right now are boys)
 Stuffed animals
 Hand-held puzzle games
 Hand-held electronic games (with batteries included)
 Dolls and action figures (of color, please)
 Markers, molding clay, crafts
 Board games