What is Nuestros Pequeños Hermanos?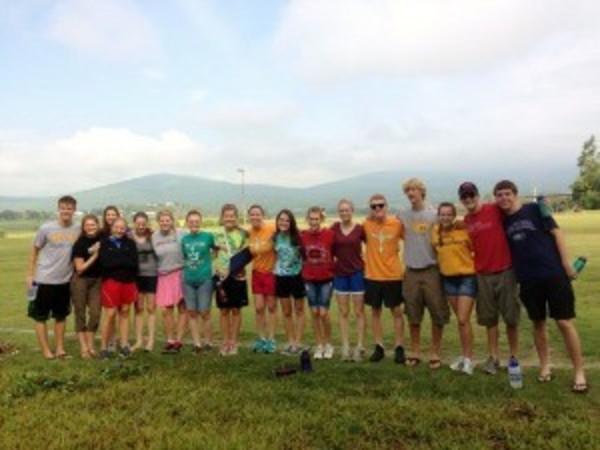 Nuestros Pequeños Hermanos is a charitable organization serving orphaned and abandoned children in Latin America and the Caribbean. Its mission is to provide shelter, food, clothing, healthcare and education in a Christian family environment based on unconditional acceptance and love, sharing, working and responsibility.
A worldwide community of donors, staff and volunteers enables NPH to help the children become caring and productive citizens in their countries. Each year, Holy Name of Jesus high school teens participate in a mission trip to one of the designated areas.
Each year Holy Name of Jesus high school teens can apply to go on a mission trip to the Nuestros Pequeños Hermanos Orphanage in Miacatlán, Mexico. This is an awesome experience that helps teens grow in their relationship with Jesus as they help children at the orphanage. Unfortunately, a 7.1-magnitude earthquake struck Mexico in September and damaged many buildings in Miacatlán.  Because of the devastation, the HNOJ group was asked to travel to the NPH home in the Dominican Republic in 2018, and again in 2019.  They will experience this adventure again in 2022.
While at the house, we put on a VBS experience for 6-8 year-olds during the day and spend our afternoons and evenings giving attention to children who desperately need it. Each night we take some time to reflect on our day's activities and how we experienced God in the most vulnerable and marginalized.
How You Can Help
You can have an impact on the lives of orphaned children by helping us raise funds to support their needs. Below is a list of annual fundraisers and other needs.  All funds raised directly benefit the NPH Orphanage. 
Testimonies
"The NPH mission trip to the home in Mexico is the highlight of my summer. I feel so blessed to be an adult chaperone on this trip and to represent the community of Holy Name down in Mexico. The children of this home show and reflect the beauty of our universal, Catholic faith and family. The HNOJ mission trip allows our teenagers to experience and participate in being the hands and feet of Jesus while serving for a week down there. Every trip, I am in awe of the transformation of these young people as they become forever a part of the NPH family."
 -Karen Holdvogt, adult chaperone
"Seven years ago I signed up to travel to Nuestros Pequeños Hermanos (Mexico) with the HNOJ group. I knew very little about the home and had no idea what to expect. Fast forward seven years. I now sponsor two beautiful godchildren who live at NPH, and I am preparing for the biggest leap of faith in my life. I will be spending one year at NPH, volunteering as a teacher and caregiver. I had no idea that my first trip seven years ago would spark a passion in me and ultimately change my life. I highly encourage you to learn more about NPH and the beautiful children who live there. It may change your life as it changed mine."
- Claire Jordan, former trip participant