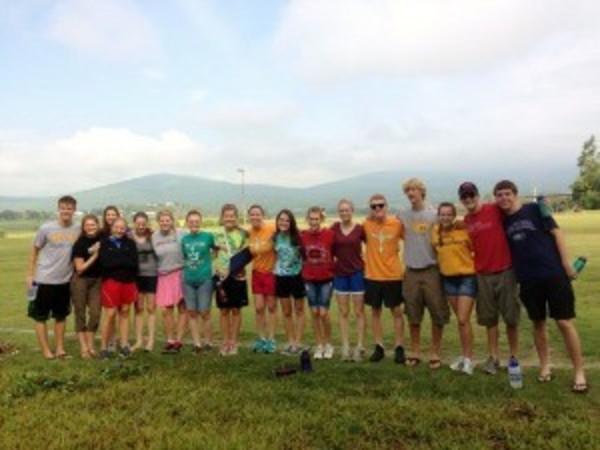 What is Nuestros Pequeños Hermanos?
Nuestros Pequeños Hermanos (link is external)is a charitable organization serving orphaned and abandoned children in Latin America and the Caribbean. Its mission is to provide shelter, food, clothing, healthcare and education in a Christian family environment based on unconditional acceptance and love, sharing, working and responsibility.
A worldwide community of donors, staff and volunteers enables NPH to help the children become caring and productive citizens in their countries. Each year, Holy Name of Jesus high school teens participate in a mission trip to one of the designated areas. This year, our teens will spend July 30-August 4 at the orphanage in Miacatlán, Mexico.
How you can help
Fundraisers
You can have an impact on the lives of orphaned children by helping us raise funds to support their needs. Below is a list of annual fundraisers.  These dates are for 2017, watch for 2018 dates soon.
Walking Taco Sales: Sunday,  April 9 and April 23 following 5:30 p.m. Masses
HNOJ School Concert Dinner: Thursday, May 18, 5 p.m.
VBS Pizza Lunch: Friday, June 16, after VBS
Dance Camp 2017: July 12-14, 9-11 a.m. at HNOJ
Led by past and present members of the Wayzata High School Dance Team; for girls entering grades 1-6; cost is $60; register at the HNOJ parish office; Dance Camp Registration Form
Boys Camp 2017: July 19-21, 9:30-11:30 a.m. at HNOJ
Led by HNOJ youth and adults involved in the NPH trip; for boys entering grades 1-6; cost is $60; register at the HNOJ parish office; Boys Camp Registration Form
Holiday Gas Station BBQ & Car Wash:  July 18, 11 a.m. -1 p.m.
T-Shirt Sponsors
Your business logo can be printed on the back of the trip shirt for a contribution.Download the T-shirt Sponsor form.
Walking Taco Sponsors
Your family can sponsor the Walking Taco Sales.Download the Walking Taco Sponsor form.
Donations
Donation Request List-combination locks for the children's personal lockers (Master Lock)
Croc-style sandals - sizes 4,5,6,7 (US) 
school supplies (blue and black pens, pencils, erasers, lined paper notebooks, large grid paper notebooks)
boy/girl underwear; boxers for older boys
boy/girl shirts (US sizes 6-12)
male and female deodorants
toothbrushes/toothpaste
shampoo
books in Spanish (children's fiction, young adult fiction, adult fiction, reference books for research at university level, English/Spanish dictionaries, self-esteem and personal growth for young adults, lives of saints)
shirts
socks
sweatshirts
Special Collection A special collection for the NPH orphanage will be offered July 22-23.
Testimonies
"The NPH mission trip to the home in Mexico is the highlight of my summer. I feel so blessed to be an adult chaperone on this trip and to represent the community of Holy Name down in Mexico. The children of this home show and reflect the beauty of our universal, Catholic faith and family. The HNOJ mission trip allows our teenagers to experience and participate in being the hands and feet of Jesus while serving for a week down there. Every trip, I am in awe of the transformation of these young people as they become forever a part of the NPH family."  -Karen Holdvogt, adult chaperone
"Seven years ago I signed up to travel to Nuestros Pequeños Hermanos (Mexico) with the HNOJ group. I knew very little about the home and had no idea what to expect. Fast forward seven years. I now sponsor two beautiful godchildren who live at NPH, and I am preparing for the biggest leap of faith in my life. I will be spending one year at NPH, volunteering as a teacher and caregiver. I had no idea that my first trip seven years ago would spark a passion in me and ultimately change my life. I highly encourage you to learn more about NPH and the beautiful children who live there. It may change your life as it changed mine." - Claire Jordan, former trip participant
Sponsorships
Families and individuals may sponsor an NPH child and donations are always welcome. To learn more about NPH, you can contact HNOJ parishioner Karen Richelsen at 612-730-7669 or karen.richelsen1@gmail.com or visit the NPH website.