Katie Hoffman
"I have been a parishioner of Holy Name of Jesus for 20 years.  I went to HNOJ elementary school then went on to Wayzata and was part of the RCIA program.  I have celebrated nearly all my sacraments with this community, which most recently was my marriage—we will celebrate our one-year anniversary tomorrow.  This community has shown a lot of support for me throughout my faith journey, and I knew that I wanted to give back to the community that has helped raise me.
"The mission of Holy Name is: Know the heart of Christ, See the face of Christ and Be the hands of Christ in everything we do.  In taking a step back, I looked at my own life to see how I am living out our mission.  I went to church and tried to live the most faith-based life that I could, but I knew that there was more that God was calling me to do.
"I have been on the CREW team for 3 years now. THE CREW is our youth ministry program grades 7-12 at Holy Name, and I specifically work with the teens in grades 9-12.  My commitment to THE CREW has helped me fill the voids I wasn't able to fill on the faith journey I was walking by myself.  My weekly commitment to SH CREW has allowed me to really focus on the theme that we have for this year, which is fostering a deeper sense of belonging to one another and growing in my intimacy with Christ.
"I have been able to foster my sense of belonging by expanding my circle of friends at church.  I have been able to form friendships with the CREW leaders that are very special. We get to share in each other's lives each week at Mass and again on Wednesday nights.  Being part of THE CREW over the years has allowed me to create a bond with young adults in our community that I may not have connected with as deeply had I not joined CREW.  We are able to talk through our daily struggles and triumphs and push each other to make the decisions in life that Christ would want us to make.  There isn't a greater feeling than walking into the church on a Sunday and seeing the open arms of seven people greeting you as you are preparing to celebrate the Mass, and I don't know if that would have happened for me had I not chosen to be involved in CREW.  My involvement makes me feel like I can absolutely call Holy Name my home. 
"CREW hasn't only helped in my sense of belonging but it has also helped me grow in my intimacy with Christ.  I cannot tell you how amazed I continue to be with the teens of our parish.  Just when I think I have my relationship with Christ figured out, a teen asks me a question that I have no idea what the answer is, so I have to open my Catechism and my Bible, read blogs, and do my research to find the answer, which in turn helps me to know Christ better.  Just like any human relationship, we have to work on our relationship with God in order for it to grow.  I used to just be on cruise control with God, but each week I am challenged by the teens and other CREW leaders to grow deeper in my intimacy with Christ.  I know that with work and living the life of a newlywed that I am busy and that if I don't dedicate time in my week to focus on me and God that it will be pushed lower and lower on my "To Do" list. My weekly commitment forces that relationship to stay at the top of the list where it belongs.
"My involvement in Holy Name makes me feel like I am an active member of the community by not only participating in weekly Mass, which is so important, but also belonging to CREW, which pushes me to help others Know the heart of Christ, See the face of Christ and Be the hands of Christ."
Kris Parod
"My name is Kris Parod, and my husband, John, and I have been parishioners at Holy Name of Jesus for about 10 years.  We have three wonderful children: Tommy, Jamie and Kellyn, who are triplets, and are in second grade here at Holy Name of Jesus School. I would like to briefly share with you my personal experience in stewardship and how it has strengthened my faith and my deepened my relationship with God.
"John and I had been attending Holy Name as a married couple, but we weren't yet members, and he was not Catholic.  We both desired to raise our children in the Catholic faith, so when I was pregnant, John decided that now was the time to become Catholic. We participated in the RCIA program and at the end of the that six-month study, we celebrated John's initiation into the Catholic Church at the Easter Vigil Mass, including the sacrament of his own baptism together with Tommy, Jamie and Kellyn. That was a wonderful moment I will always treasure. 
"We were welcomed with so much support and assistance through new friends at as we began our journey as members of the church, and new parents, that we wanted to be able to give back in some meaningful way. There is a steady refrain that is heard in the parish community about giving of your time and talent.  But the only problem was that I didn't feel like I had much of either of those things to give. 
"I had read in the bulletin that through the Special Needs Ministry, drivers were needed for bringing individuals to Mass who otherwise may not be able to get here on their own. The commitment was once a month. I felt that this was manageable for both John and me. I had no idea what coming to Sunday Mass meant to these individuals; it was so important to them to be able to participate in Mass, and have cookies & donuts afterward as part of the community.  By strengthening my sense of belonging, I was, more importantly, providing them with a sense of belonging, too. As our kids have gotten older, they interact with those friends and are understanding what it means to give to others by sharing our time…. by being the hands of Christ.
"Another one of my most cherished gifts has become the Adoration Chapel.  I knew I needed more time with God in my life,  but I thought He would certainly understand if 'didn't have time' to commit to an hour every week, or even once a month in the Chapel.  But again, after hearing and reading about the request for more adorers, I responded the invitation to take one hour a week and devote it to God.  I'm not sure why I was so surprised at how amazing my first experience was, but I truly felt His presence. That one hour is my time to thank Him, honor Him, listen to Him, and to ask Him for forgiveness, guidance and strength. The fuller your life is, the more you need that quiet hour with God. My life is so much more in balance now by adding another commitment on my calendar than it was before. We truly can do all things through Christ who gives us strength.
"The more I felt God's presence in my life, the more of it I desired. My curiosity for other opportunities deepened. I heard of this 'thing' called Cursillo, but had no idea what it was. And for anyone not familiar with it, the Cursillo movement is dedicated to spreading the Word of God and helping people form a closer relationship with Jesus. You devote a weekend of study with other men and women, which then ultimately helps expand your prayer life by keeping you connected with your Cursillo friends, so that you can continue to increase your knowledge about God's Word and your Catholic faith. To that end, John and I both recently participated in men's/women's Cursillo weekends. The time we gave was nothing to compared to the wonderful blessings and friends that have come from it.
"By being stewards of God's blessings, we include Him in our daily lives. I love Father Steve's words that God does not want to be just a 911 call. He wants to be here for us for all of our needs, but let's also consider ways in which we can Know His heart, See His face and Be His hands. By being a blessing to others by giving of our time and talent, we are truly blessed by our God."
Mari Moroz
"Holy Name of Jesus is more than a place of worship. It is a family of people who care for one another. Throughout my life at HNOJ, I have witnessed true connections and relationships blossom in one another and with Christ. A parish like this one has the potential to frame the world in God's image and teach people all over to love and cherish our Lord and each other. Every day I see things that happen here and think to myself, 'I am making a difference and I am drawing closer to Christ.'
"There are so many ways to get involved here at HNOJ and I have tried to take advantage of many of these opportunities. From the many choirs to the festivals and events, all the way to High School CREW and my Confirmation in 10th grade. Every step I've taken at HNOJ has helped form and shape me into whom I am today. It has taught me who I hope to grow to be in the future.
"One of my favorite things about Holy Name is our emphasis on growing the faith of our children and teenagers. Without our Sunday School, Faith Formation or CREW Youth Group, I don't believe I would be standing here before you today. The fact that Holy Name cares so deeply about strengthening the love for God in our youth is empowering, essential and breathtaking. I have never felt more whole than with the teens of this parish and the prayer and guidance from the staff, Father Joseph and Father Steve, and the love of our Lord Jesus Christ.
"One of my favorite days of the year here at Holy Names comes every March. It is the day that I see the lives of some ninth graders transform to Know the heart of Christ, See that face of Christ and Be the hands of Christ. For the past three years, I have had the privilege of being a part of our Passion Play. This event has been changing the lives of our parishioners for many years. As a member of the cast and as a student director, I have seen every side of this experience and wouldn't change it for anything in the world.
"Last year during our final week of rehearsals, I saw a change in the kids. A yearning for something they were just discovering, the realization that they did, in fact, think performing a play could be fun, and the overwhelming presence of God in each and every one of them. Not all of them wanted to be there at first, but by the night of the performance, God had worked his way into all 90 of them in different ways. I heard a few of the Roman Guards raving about their experience and wishing they could do it again.
"We started a tradition a few years ago at Wayzata High School for the members of the Passion Play involved each year. The day of the play performance, all the ninth graders and student directors would meet at our front entrance before school started and pray for a successful day and show later that evening. I would see other students pass our circle, but the ninth graders around me praying didn't seem to mind the stares. A change had occurred in them, one bigger than you and me.
"But it isn't just the Passion Play. It is the retreats, the Wednesday youth groups, the faith formation, the whole confirmation process, the volunteering opportunities, the Vacation Bible School, the chance for kids to see God in so many ways here at Holy Name of Jesus. Your time, prayer and efforts are paying off and these kids are finding their way to God. From the moment I stepped onto this alter as a ninth grader to the moment I stand before you now, it has been a journey of faith and has been guided by the people here at Holy Name. In the scary teenage years that some of us are facing, having HNOJ as a rock to stand on has given me confidence, leadership, faith, joy and a relationship with the Lord that I will have forever."
Chris and Leah Hupp
Our journey with the Holy Name of Jesus community began 23 years ago, when we attended our first Mass while expecting our first child. Since then, our family has grown, and so has our involvement with Holy Name. We have found many ways to grow in our faith through volunteering and participating in the many opportunities Holy Name has to offer.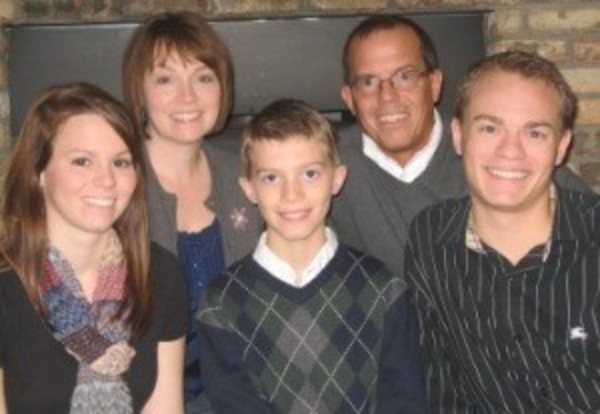 One of our first experiences was Christians In Search, where we participated in a small group study and faith sharing. Soon our children began attending Sunday School, Vacation Bible School and school at Holy Name, as well as receiving their sacraments—all of which opened doors for involvement. Over the years, we have enjoyed serving in a variety of areas: Faith Formation, VBS, Life Teen (now THE CREW), Cana Dinner, Passion Play, and Holy Name of Jesus School, and in liturgical ministries as a communion minister, lector and greeter, just to name a few.
Through our involvement at Holy Name, we have experienced an increased sense of belonging and community that has led to many friendships. Holy Name has also provided us and our children with outreach opportunities such as serving meals at St. Stephen's shelter, Feed My Starving Children and traveling to the Nuestros Pequeños Hermanos (NPH) orphanage.  Through all these experiences, we and our children have learned what it means to live out our faith.
Living in Minnesota away from extended family, the Holy Name of Jesus community has been a source of many faith-filled friendships. These friendships have become like family to us and will remain so for our lifetimes. In particular, it has been our involvement within Cursillo (a Catholic community committed to growing closer to Christ through prayer, study and service) that we have experienced the Heart and Hands of Christ's love during unemployment, illness, injury and everyday life. The Cursillo community at Holy Name has been a source of support and prayer. Each experience, opportunity and person has helped to shape our journey as individuals, as husband and wife, and as a family. Holy Name is a place where we share of ourselves, and in return receive many blessings.
Over the years what we have experienced and learned is this: "It is more blessed to give than to receive." Act 20:35  
Mike Wall
My wife, Suzanne and I, along with our four children, have been parishioners at Holy Name of Jesus since 2005. The first time we attended Mass at Holy Name was on a cold day in May 2005. I was contemplating a job offer that would involve a move to the Twin Cities from our home in the suburban Washington DC area.  We'd been told that Holy Name was an active parish in the area and decided to check it out before meeting our real estate agent later that morning.  During Mass, as I glanced out the window and saw snow flurries, I wondered if this was really the right decision. It was the wisdom of St. Benedict displayed on the wall that helped me to focus on the bigger picture and be open to God's plan (even if that plan involved living in a place where it snowed in May).  
After Mass, we joined other parishioners for coffee and donuts and met families who had children the same ages as our own.  It was a welcoming experience!  In fact, some of the people we met that morning are now our close friends and neighbors. 
We are now beginning our eighth winter here and God has gifted us with many blessings.  At Holy Name, we have been inspired to share our time, talent and treasure.  In doing so, our family has got to know the heart of Christ, seen the face of Christ and be the hands of Christ through weekly participation in Mass, active involvement in Faith Formation, and service to the parish and greater community.
Suzanne served on the Faith Formation Committee and helped to grow its programs.  I have served on the Administration and Development Committee and worked with other parishioners who share a passion for the values and goals of this community.  As a committee, we plan and allocate resources to advance the Parish goals in order to create a sense of belonging to those who walk through our doors.  We support our staff and encourage parishioners to develop a more intimate relationship with Christ by responding to the call to share our time, talent and treasure.  It is an engaging exercise that I look forward to every meeting. 
Over the years, Suzanne and I have both been catechists and helped our children as well as others learn and understand the gift of their faith.  We've both benefited from many of the adult education programs as well as the social opportunities available in the parish.  I try to join the men's breakfast group whenever I'm in town and always come away inspired by the stories and wisdom shared by the men of this parish.  Suzanne has connected with other women through bible study and prayer groups.
Yet it is the simple act of participation in our weekly Mass that makes a difference for us.  One of the highlights for me at Mass is watching our youngest daughter bring up food items each week during the offertory.  Like the other children who walk up the aisle with their gifts, she beams with enthusiasm and is an active, engaged participant in the Mass and member of this community.
Mass at Holy Name brings our family together.  We grow in our faith through the engaging liturgy, inspiring sermons, and awesome music.  Yet it's also the quiet moments of prayer and reflection that grace us during Mass that make this parish a special place.
As a family we have participated in the opportunities presented to this community to reach out to those less fortunate.  We have prepared and served meals to residents of the homeless shelter at St. Stephen's.  With another Holy Name family, we have adopted other families at Christmas and purchased and wrapped gifts for them.  What started as simple service project for Confirmation has now become a cherished tradition for all of us. 
Jesus said to Peter, "You are Peter (rock), and upon this rock, I will build my church."   Holy Name has been our rock, and the foundation upon which our family has deepened our faith and developed roots in this great community. 
In closing, I want to reach out to those in our audience today, who may be new to the parish like Suzanne and I were eight years ago.  Take a few minutes after Mass to hang out in the gathering space.  If you are an existing parishioner, stop for a few minutes and introduce yourself to someone you don't know. We have a wonderful parish here at Holy Name that makes a difference in our lives.