Holy Week and Easter Sunday 2023
Palm Sunday of the Passion of the Lord
Saturday,  April 1, 5 p.m.
Sunday,  April 2, 8:30 and 10:30 a.m.; 5:30 p.m.
Holy Thursday,  April 6
(no 8 a.m. Mass)
7-8:30 p.m. Mass of the Lord's Supper (Nursery available)
Following Mass, Adoration continues in the Good Samaritan Center until 10 p.m.
9:30 p.m. Watchfire begins
Good Friday, April 7
7:30 a.m. First Friday Rosary in remembrance of loved ones (There will be no 8 a.m. Mass or breakfast following Rosary)
3-5:45 p.m. Good Friday of the Lord's Passion liturgy (Nursery available)
7 p.m. Stations of the Cross
Holy Saturday, April 8
(no confessions)
8-10:45 p.m. Easter Vigil Mass
Easter Sunday, April 9
8:30 and 10:30 a.m. Mass of the Resurrection of the Lord
Concurrent liturgies in the Church and the Good Samaritan Center
(no nursery)
(no 5:30 p.m. Mass)
Divine Mercy Sunday, April 16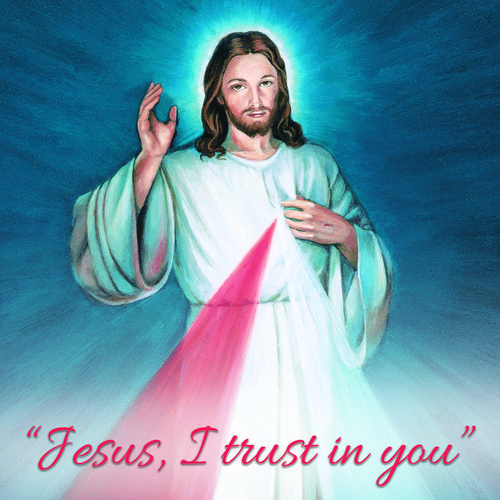 From Saint Faustina's diary: "Jesus said to me, Paint an image according to the pattern you see, with the signature: Jesus, I trust in You. I desire that this image be venerated, first in your chapel, and then throughout the world… I desire that there be a Feast of Mercy. I want this image to be solemnly blessed on the first Sunday after Easter; that Sunday is to be the Feast of Mercy." (Diary of Saint Faustina, Notebook 1, paragraphs 47 and 49). 
At HNOJ there will be Eucharistic Adoration and a Divine Mercy Chaplet prayed after all the Masses on Sunday,  April 16. This prayer is spoken, and prayed using an ordinary Rosary. This prayer contains the repetition of praying the phrase, "For the sake of His sorrowful Passion, have mercy on us and on the whole world".