This summer teens and adults from HNOJ travel to the Casa Santa Ana, in the Dominican Republic, a home in the Nuestros Pequeños Hermanos system of orphanages.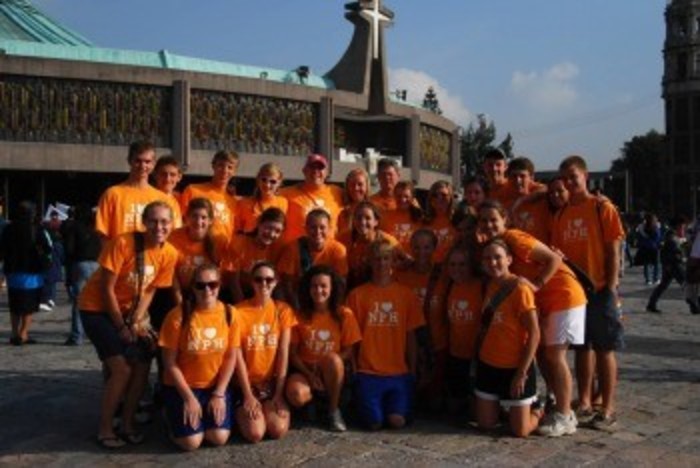 While at the house, we put on a VBS experience for 6-8 year-olds during the day and spend our afternoons and evenings giving attention to children who desperately need it. Each night we take some time to reflect on our day's activities and how we experienced God in the most vulnerable and marginalized. There are a limited number of spots on the trip. 
Basic Info:
When: August 1, 2022 - August 7, 2022
Who: The following are encouraged to apply for the trip:
Current 10-12th grade students.
Current 8th and 9th-grade students with an adult.
College Students & Young Adults.
Adult Chaperones. 
Application Requirements:
All participants will be responsible for their entire portion of the airfare.
Scholarships may be available.
Knowledge of the Spanish language is a plus, but not required.
Parishioner of HNOJ
Meet the age/grade requirements listed above.
All over 18 must meet Essential 3 (Background check, Virtus Trained, Code of Conduct)
Willing and able to participate in preparation activities & fundraising as well as trip. 
Cost: About $1200 (Includes the cost of plane ticket)
Responsibilities: The HNOJ~NPH Mission Trip is a six-month experience. From application to the reunion we ask all participants and chaperones to commit to every aspect of the experience. Prep meetings beginning in February.  We also hold significant fundraising for the children from the beginning to the end of the preparation process. These fundraisers are necessary and important.
Due: The Interest Application is due at the end of the day on February 1, 2022.  If you need an extension,  please talk to Elliut Fonseca.
Application Process:  All interested teens and adults to complete a simplified "Information Application." Completing this application is not a commitment to attend the trip or the entirety of documentation for participation. Once the participation application process closes and the team is chosen, you will be emailed to confirm your place for the NPH Trip.  If you are accepted to be on the NPH Team, you'll be invited to join our kick-off meeting on Feb. 8, 2022.
A note on Covid-19 restrictions. NPH currently has the following protocols in place. Of course, these are all subject to change depending on the pandemic and the national and local requirements at the time of our trip.
All NPH USA trip participants must be vaccinated.
Some countries require negative COVID test results for Americans to enter, others do not.  The best place to check on if the DR is currently requiring this is the US Embassy's website.
There is a quarantining/social-distancing period of at least 3 days in which trip participants cannot interact with the kids or staff who work directly with the kids. Each NPH home has slightly different practices in how they enforce this, but exact protocols for the DR will be communicated to you prior to your departure.  Also, trip participants should be aware that should an outbreak occur at the home during your visit, part of all of the kids at the home may be require to lock down and spend a period of time quarantining.
Excursions may be limited or prohibited depending on the pandemic and home rules.
Mask-wearing is enforced at all moments outside of your room while at the home. It is also required on any transport or excursions to protect locals as well as the staff drivers. Once you are cleared to spend time with the kids, you must continue to keep your mask on and only remove it when eating or drinking.
Everyone must take an antigen test on the 3rd day of your arrival. The costs for this may or may not be covered by the home.
Everyone must pay and take an additional test in order to re-enter the US, which may require an inconvenient trip to the city during the group's stay and should be budgeted at $100/test.
Every trip participant needs to know that if they do test positive, they  may have to stay in the country until they test negative. This means that any costs associated with the extended stay will be the participant's responsibility. If a minor tests positive, the minor and an adult guardian will both need to stay in the country until everyone receives negative test results and/or 10 days have passed without symptoms.
Each trip participant will be required to sign a new liability release as part of their trip forms.
Apply online here by February 1, 2022. 
Questions about the trip or application process? Email Elliut. 
Interested in chaperoning? Email Elliut.