Passion Play 2019 -- March 15 at 8pm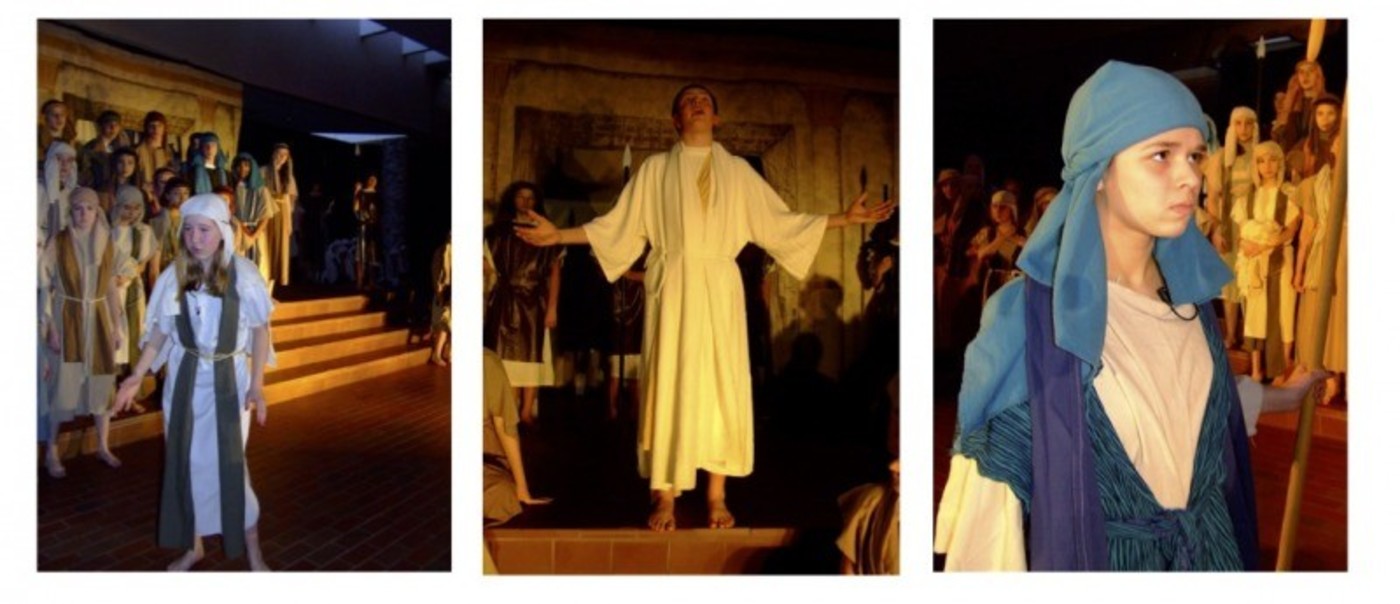 Registration for the 2018 Passion Play can be accessed here or at the Parish Office. 
Sign up for auditions here.
Parent volunteer sign-up link can be accessed here.
Passion Play tickets will be available after all Masses on March 2-3 and March 9-10 in the Gathering Space or
by contacting Ashley starting March 11 at 763-233-0251 or email.
Rehearsal Schedule 2018-19
Auditions (attend the one time you sign up for; see link above)
Wed. Oct. 3rd – 7:30-9pm
Sat. Oct. 6th – 1-3pm
Wed. Oct. 10th – 7:30-9pm
Sat. Oct. 13th – 10am-12pm

Call-backs (will be notified if necessary to attend)
Sat. Nov. 3rd – 12-3pm
Wed. Nov. 7th – 7:30-9pm
Rehearsals
Wed. Dec. 12th – 7:30-9pm (Kick-off!)
Wed. Jan. 2nd – 7:30-9pm
Wed. Jan. 9th – 7:30-9pm
Mon. Jan. 14th – 7:30-9pm
Wed. Jan. 30th – 7:30-9pm
Sun. Feb. 3rd – 12-2pm (disciples only)
Wed. Feb. 13th – 7:30-9pm
Wed. Feb. 20th – 7:30-9pm
Mon. Feb. 25th – 7-9pm
Mon. Mar. 4th – 7-9pm
Final Set-up and Rehearsals
Sat. Mar. 9th – 2-3:30pm (prop set-up)
Mon. Mar. 11th – 5-9pm (Dress Rehearsal)
Wed. Mar. 13th – 5-9pm (Dress Rehearsal)
Thurs. Mar. 14th – 5-9pm (Dress Rehearsal)
Fri. Mar. 15th – Play begins at 8 pm!
                        Cast party immediately following
What's the Passion Play?
The Passion is an experience that no 9th grader wants to miss. Approaching 25 years and running, the Passion Play is an experience that sets HNOJ apart. 9th graders participating in The Passion at HNOJ tell the greatest story the world has ever known. Powerful. Riveting. Unforgettable. Dedicated directors, adults, and high school teen directors guide our 9th-grade teens through an experience which takes them back 2,000 years in history through the life and passion of our Lord.
What if I've never been in a Play Before?
Totally ok. In the last 25 years, the majority of students participating in the play have had no acting experience. If you'd only like one line, that's ok. if you'd prefer not to have any lines, that's also ok. The is a role for any and every teen, regardless of how much acting experience you have.
Who: The 9th Gr. Teens, 2 Dedicated Directors, Energetic Teen Directors, and Phenomenal Group of Adult Volunteers
The Passion Play is an experienced designed for our 9th-grade teens. The 9th graders are lead by a dedicated, passionate, and talented group of volunteers who help to make this the life-changing experience that it is.
Where: Holy Name of Jesus
All auditions, rehearsals, and the performance take place at Holy Name of Jesus in the Church.
Cost: $50
This cost covers all costumes, lighting, and props that are needed to make The Passion Play the great story that it is.
Contact: Ashley Cermak: 763-233-025 or email.