Stewardship Invitation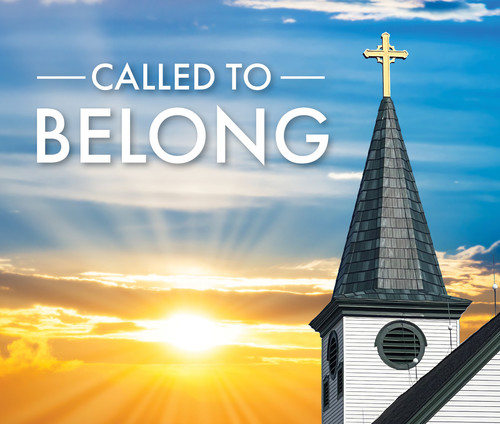 "But without faith it is impossible to please him, for anyone who approaches God must believe that he exists and that he rewards those who seek him." Hebrews 11:6
At Holy Name of Jesus, you are called to belong. We learn to follow Jesus and inspire each other to live as disciples of Christ. Your life is not about you, but about God's purposes for you. 
Stewardship is a faith response to God's love and His purpose for you. God blessed you with talents, skills and strengths. As you recognize all you have been given, seek to share it with others through these efforts:
PRAYER - attend Mass, pray regularly and gather as sheep that belong to Him and who listen to His voice.
PARTICIPATION - believe in God, in Jesus and in the Holy Spirit and follow Him by participating in the mission and ministry of the Church.
GENEROSITY - be disciples by generously committing your gifts to support the mission, ministries and services of our faith community.
Our stewardship invitation weekend is Oct. 14-15, 2023. You are invited to make a stewardship commitment for the 2024 calendar year.
Stewardship Spotlight: Prayer and Liturgy
There are many ways to enter into prayer and liturgy at Holy Name of Jesus: Adoration, small groups, retreats, First Friday Rosary, the Sacraments – to name a few. As Catholic Christians, we are called to participate in the life and mission of the Church. What does that look like for you? How is God calling you deeper into prayer? We have three beautiful testimonies to share with you on ways that fellow parishioners have participated more fully into prayer and liturgy at Holy Name of Jesus.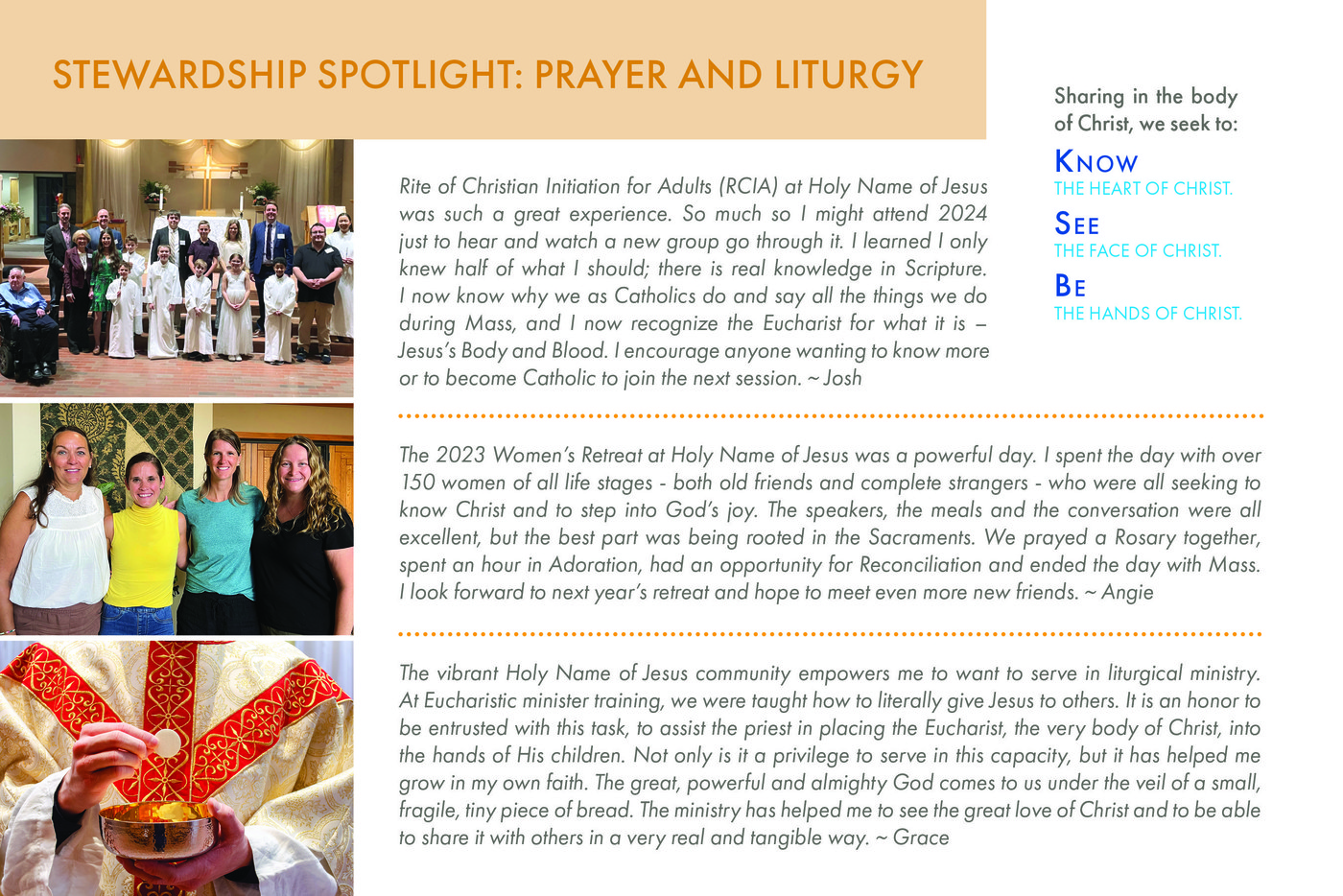 Stewardship Spotlight: Participation
"Fear not, for I have redeemed you; I have called you by name, you are mine." – Isaiah 43:1
God has called us each by name, and we belong to Him. He has blessed us with talents, skills, strengths and abilities. As a community of Holy Name of Jesus, we grow together and support one another in our spiritual journey when we use those gifts and abilities in service. Three of our parishioners have shared their experience participating in the life and mission of the Church. May they inspire you to consider how God is calling you to serve.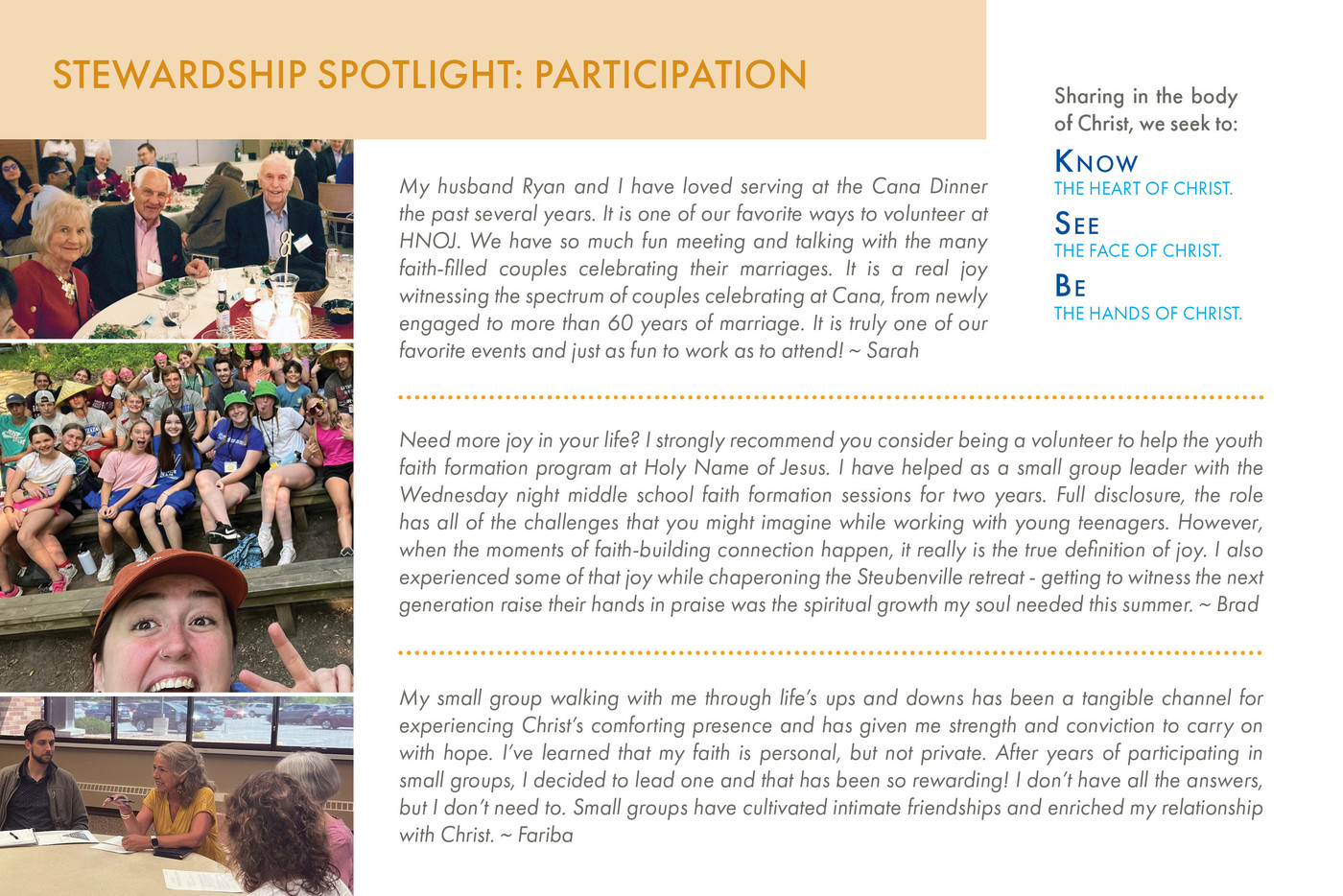 Stewardship Spotlight: Outreach and Generosity
With over 80 ministries at Holy Name of Jesus, it isn't hard to find a place to belong! You could serve with one of our Outreach Partners, which include Interfaith Outreach, Ascension School and Nuestros Pequeños Hermanos. Or choose from one of the many HNOJ groups such as A Community Caring for Life, the Knights of Columbus and Ladies Auxiliary and Funeral Food Ministry. Whichever your passion, Holy Name of Jesus parishioners have a heart for outreach. Your generosity in the weekly collections make our programs and mission possible to Know the heart of Christ, See the face of Christ and Be the hands of Christ.