Never attended Mass at Holy Name of Jesus? We welcome you to join us this weekend on Saturday at 5 p.m., or on Sunday at 8:30 a.m., 10:30 a.m. or 5:30 p.m.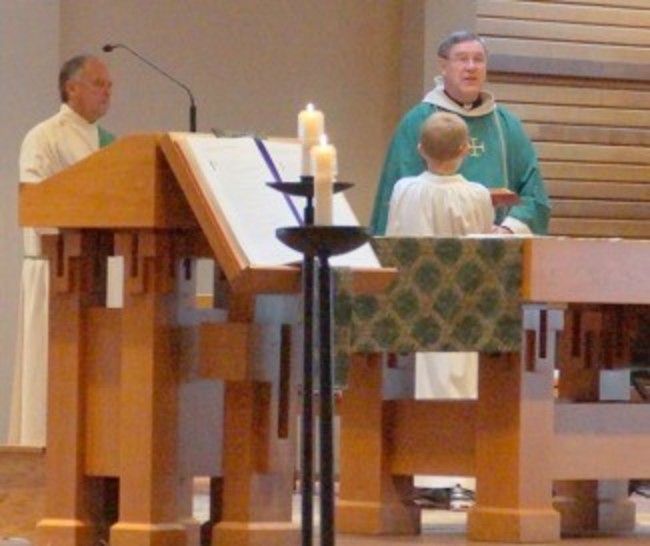 When you come to Holy Name of Jesus, we want to make sure you have the best worship and fellowship experience possible. Here are a few items that may be of interest to you:
Nursery During the School Year: Children of all ages are welcome at Mass—indeed, these youngsters recall Jesus' very words, "Let the children come to me… for the kingdom of heaven belongs to such as these" (Matthew 19:14). Our nursery is another option for parents of children ages eight months and up, where children can play and learn about God while parents are celebrating Mass. Our nursery is open during the 8:30 and 10:30 a.m. Sunday Masses from September to May.
Gluten-Free Hosts: If you would like to receive communion but require a gluten-free host, please drop by the sacristy—located down the hall immediately before the Good Samaritan Center (social hall), across from the bathrooms—and inform a clergy member or sacristan of your need.
Large Print Worship Aids: Several large print worship aids are available on the table outside the main doors to the worship space for who would like one.
Hearing Aids: If you have difficulty hearing the Mass, you can request a hearing aid at our front desk, immediately to the right as you enter through our church's main doors.
Coffee and Donuts: After our 8:30 and 10:30 a.m. Masses, we invite you to come to the Good Samaritan Center (across from the worship space) and enjoy coffee, donuts and great conversation with others in our community.
Interested in learning more or becoming a member? Contact us at 763-473-7901 or email@hnoj.org.